A one day springtime adventure trip to the Khutzeymateen Grizzly Bear Sanctuary in British Columbia to see the grizzly bears fresh out of hibernation.
The day's adventure began with a flight to Prince Rupert, B.C. as the sun rose over the mountains. A leisurely breakfast was included, along with an interesting and informative talk by a naturalist who let us examine various real animal parts including skulls and fur. Zoie won a wonderful Hudson's Bay blanket for correctly guessing the exact minute of "wheels down" at the Prince Rupert airport!

There was a short bus ride from the airport before we boarded a large catamaran for our trip up the coast and to the inlet that leads to the sanctuary.
We noticed some bald eagles perched up in the trees as we boarded the boat, here is a shot of one of them.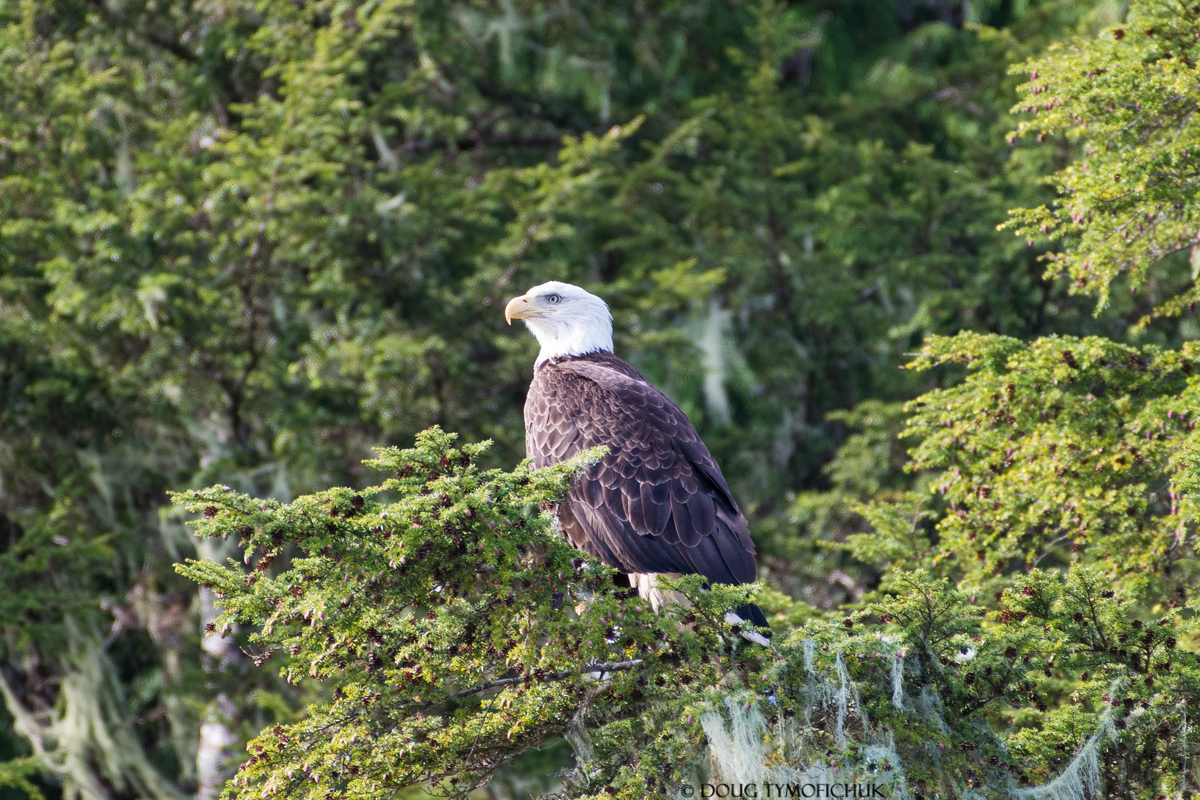 We would be seeing more magnificent birds like that later!
It had turned out to be a beautiful morning as we set out heading north through the open waters.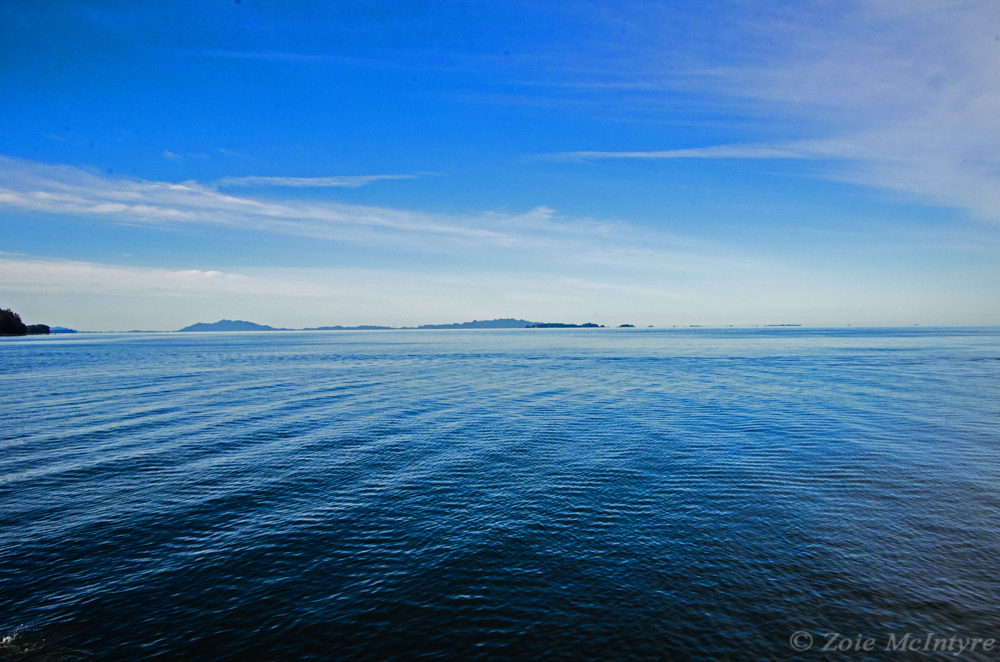 A spring salmon run was about to start and there were quite a number of fishing boats moving out to be in position and ready for when the season opened.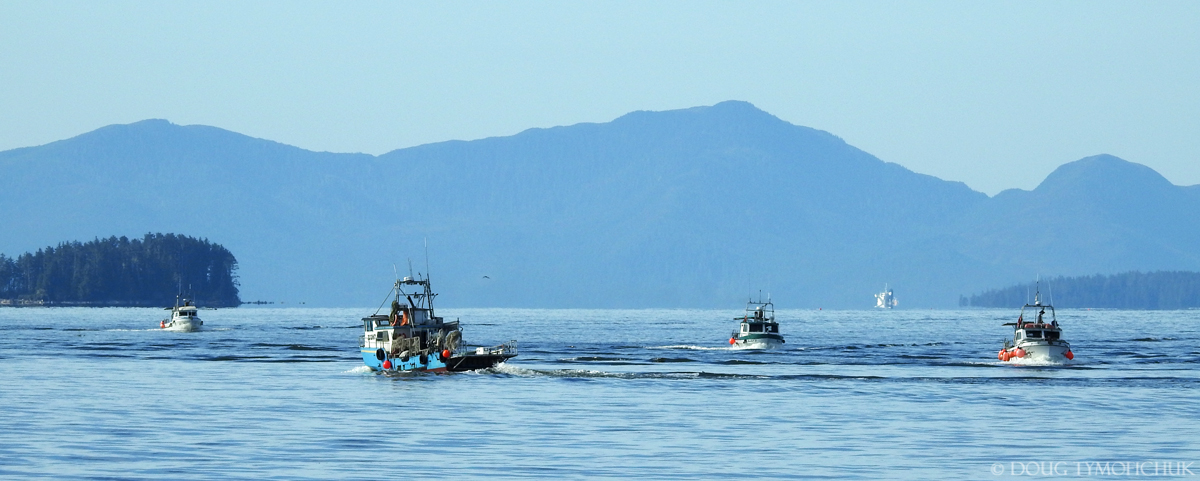 We passed by a lot of interesting and pretty views.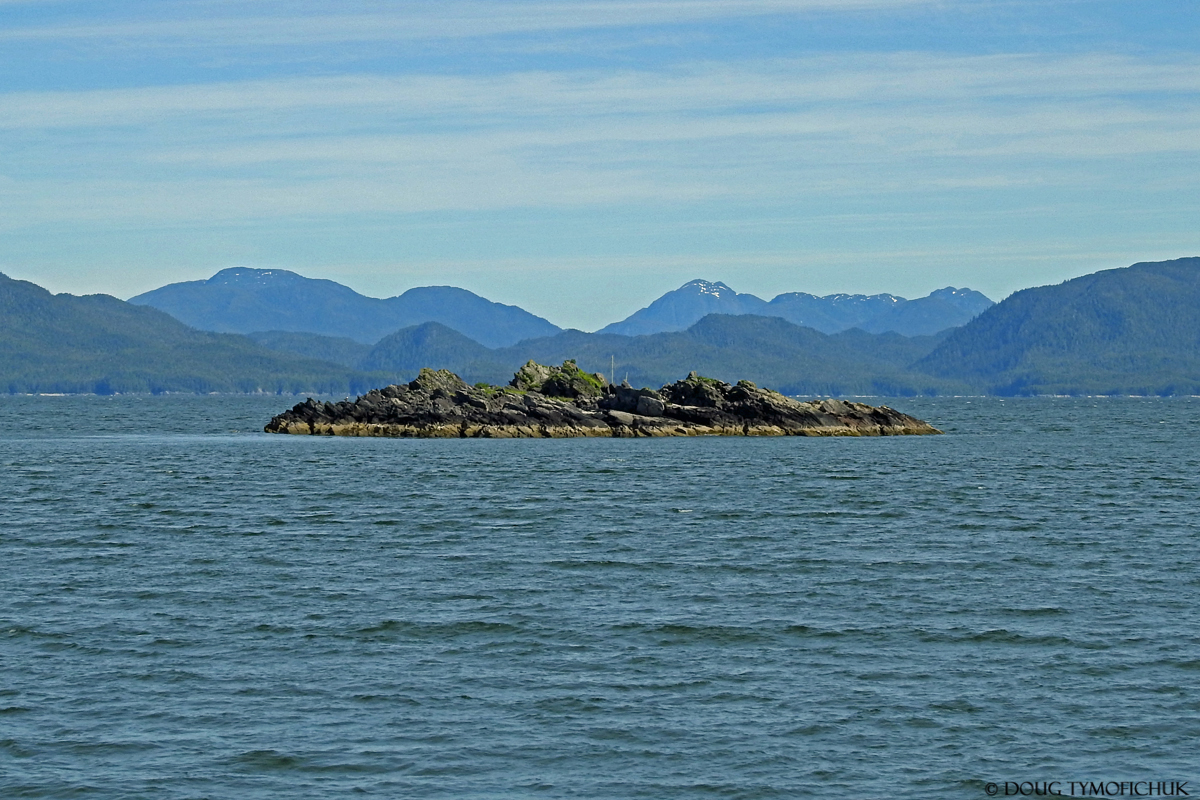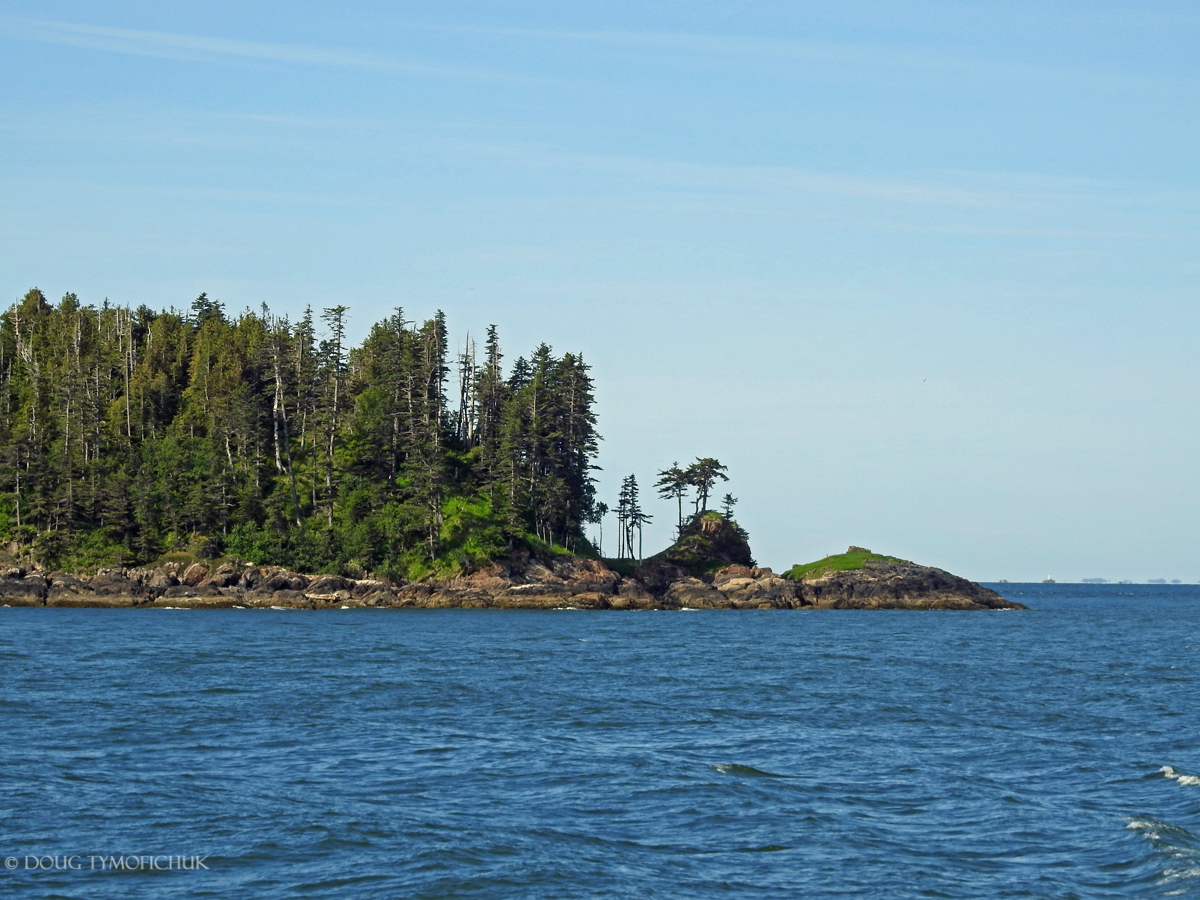 Here we are just about to start up Khutzeymateen Inlet.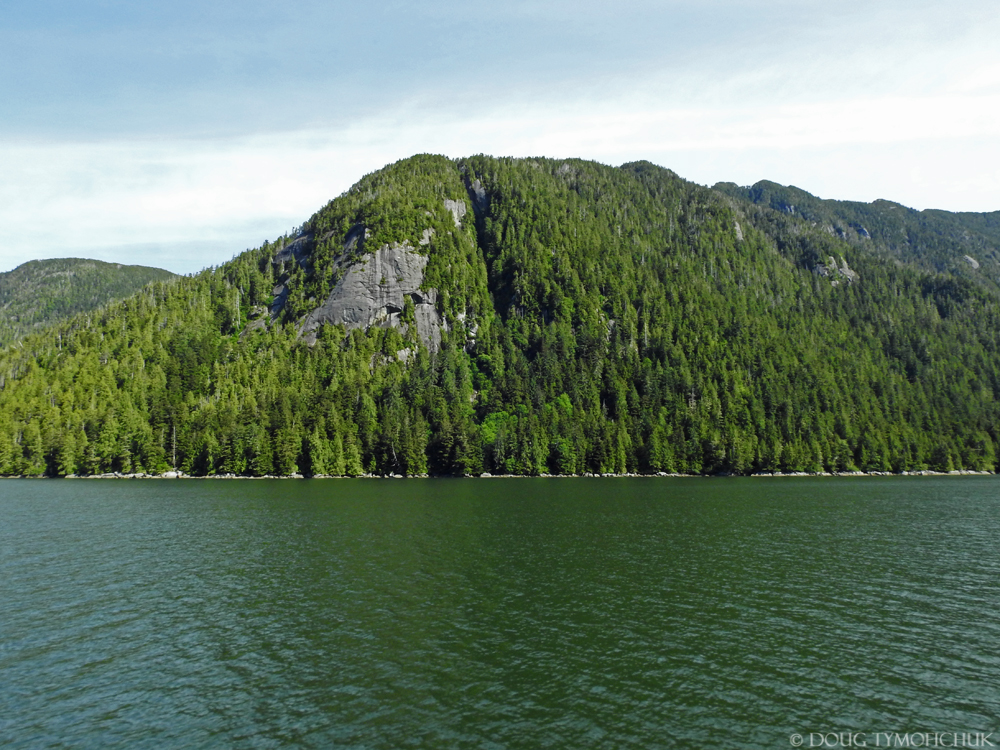 The scenery inside the inlet was looking very nice!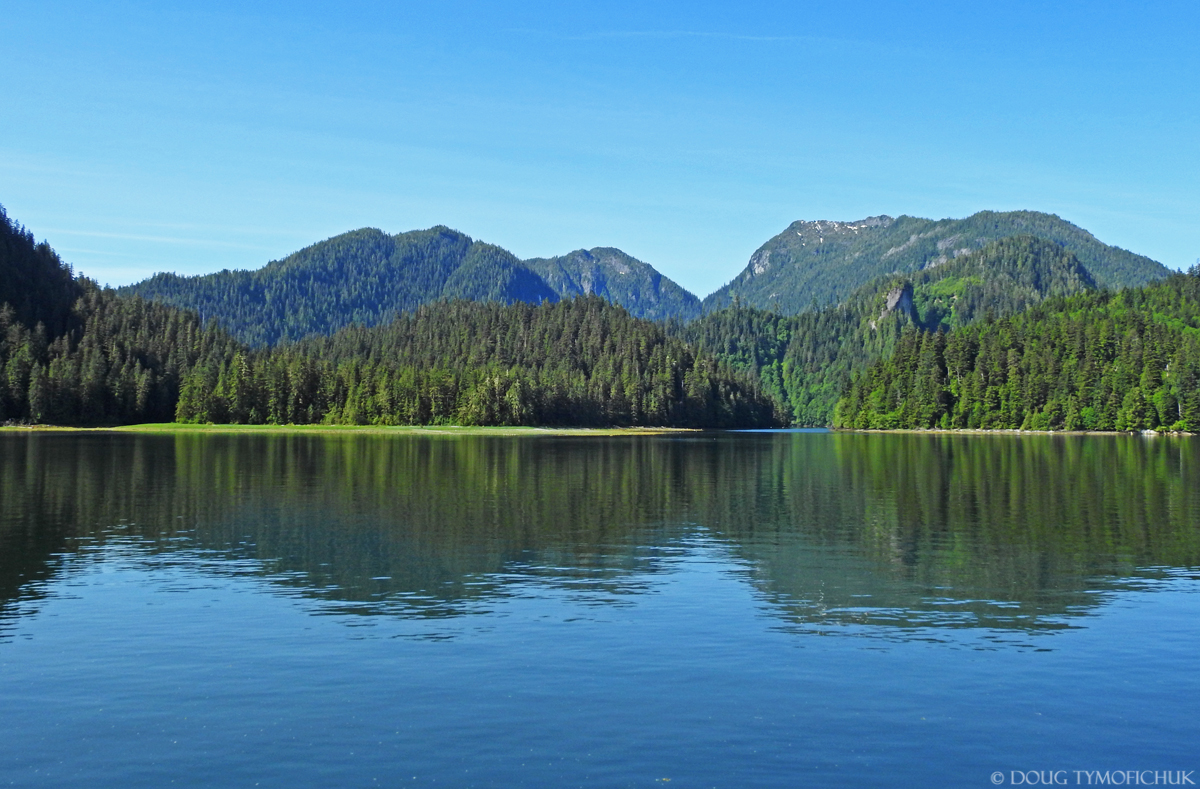 At one point a small sea otter passed by the boat.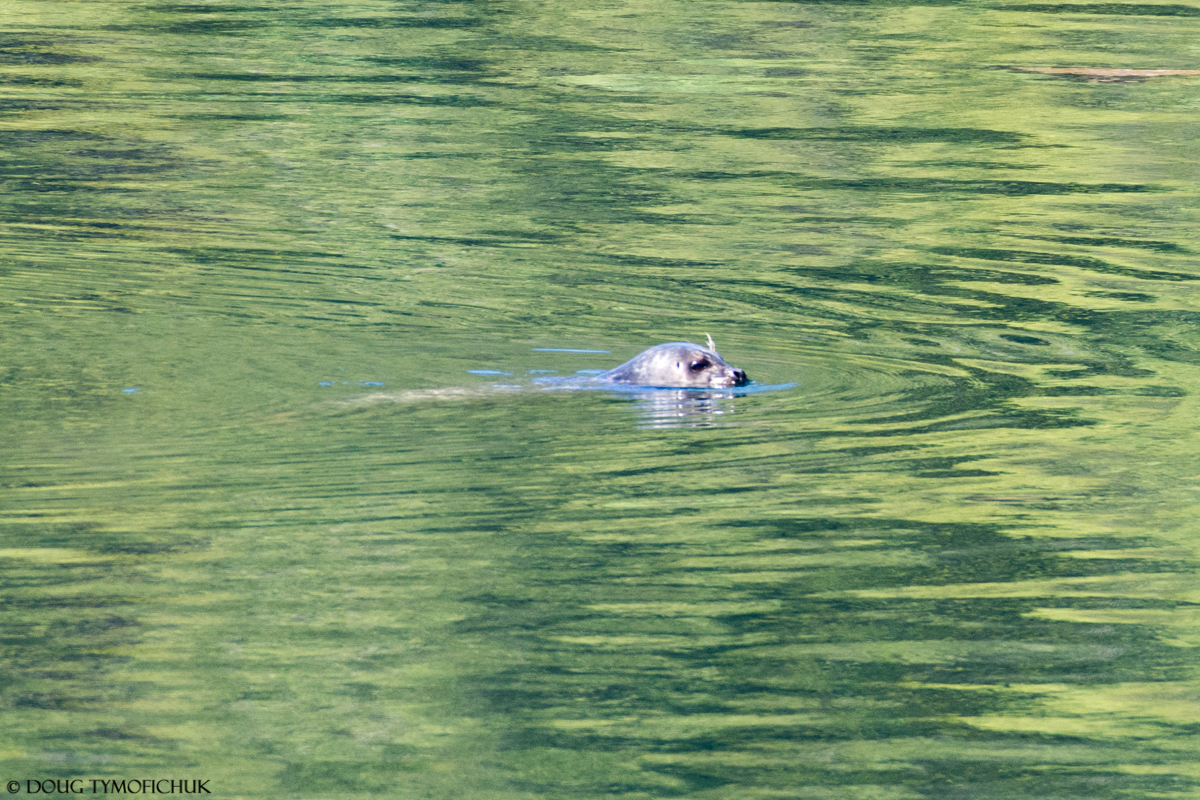 As we travelled further up the inlet, more and more beautiful scenes were presented to us!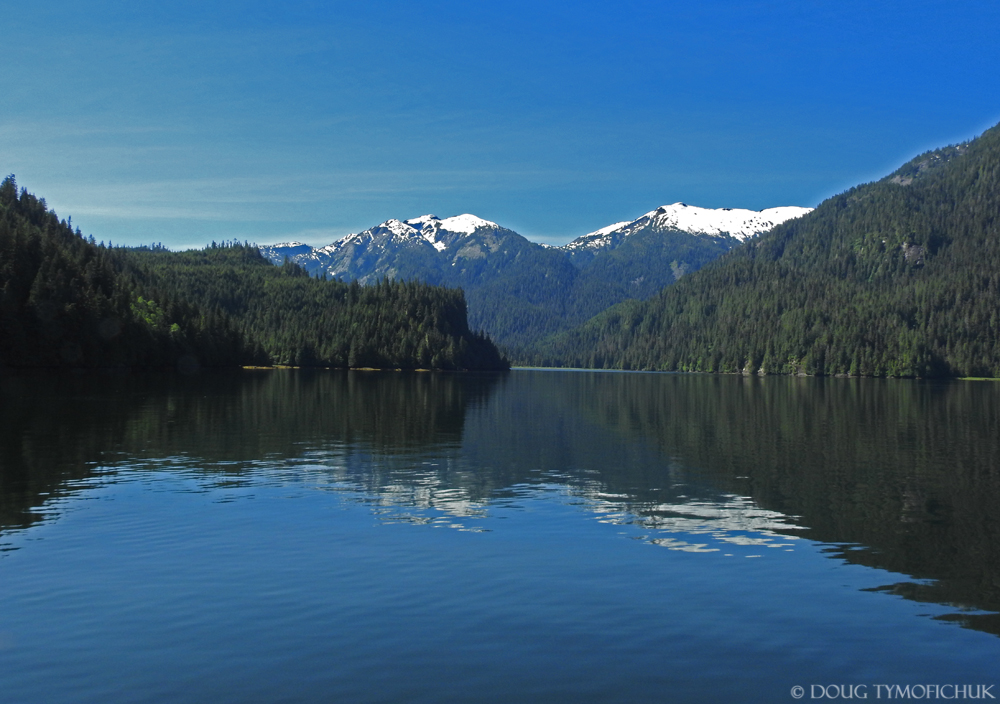 There was always something interesting to see.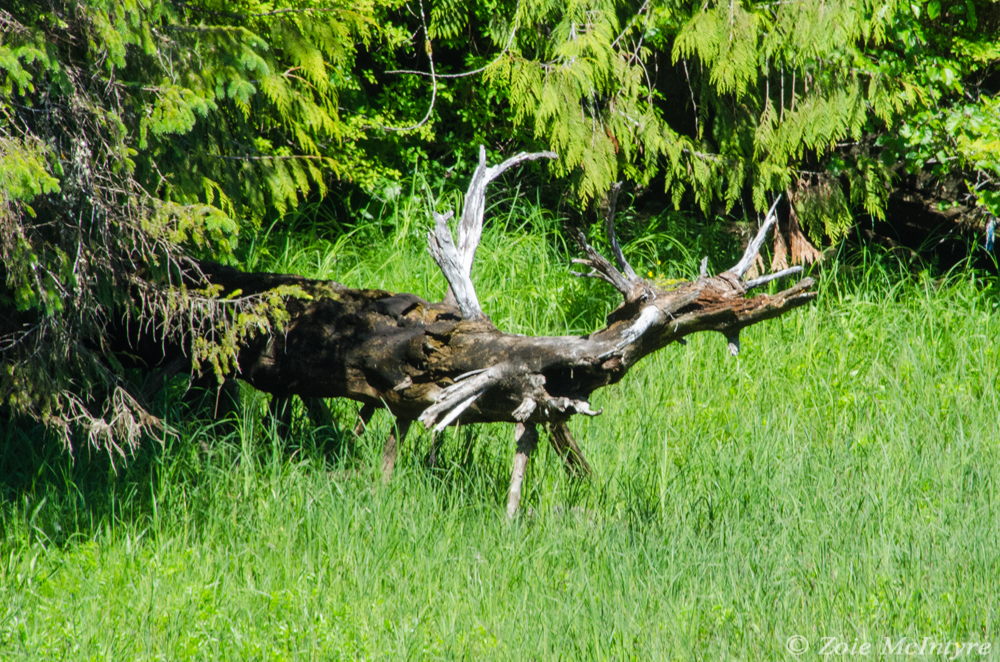 This one looks like a rhino!!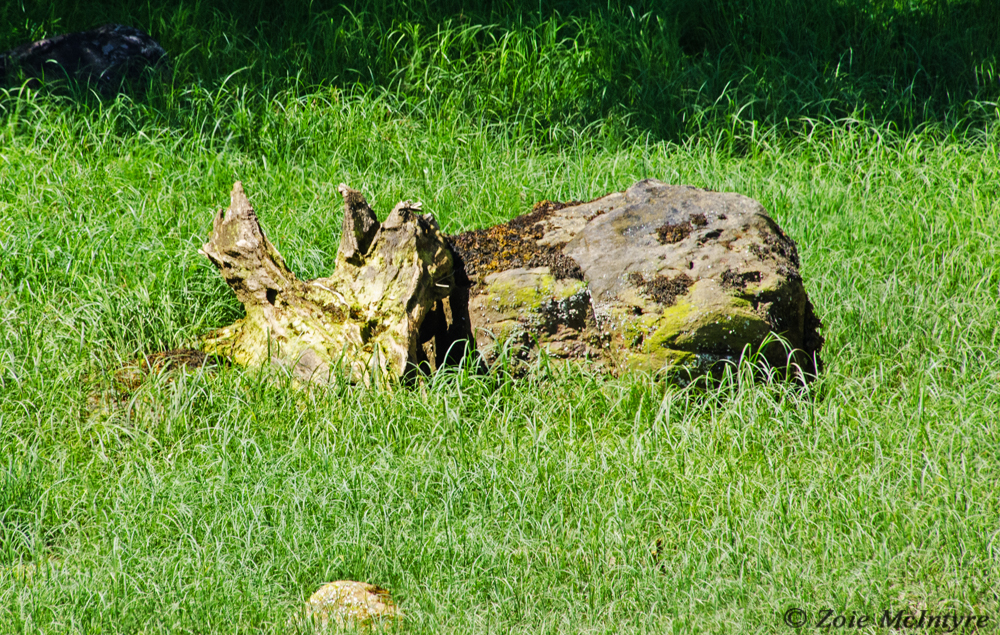 Well, it was sure looking like it was going to be a gorgeous day, in spite of the forecast calling for rain!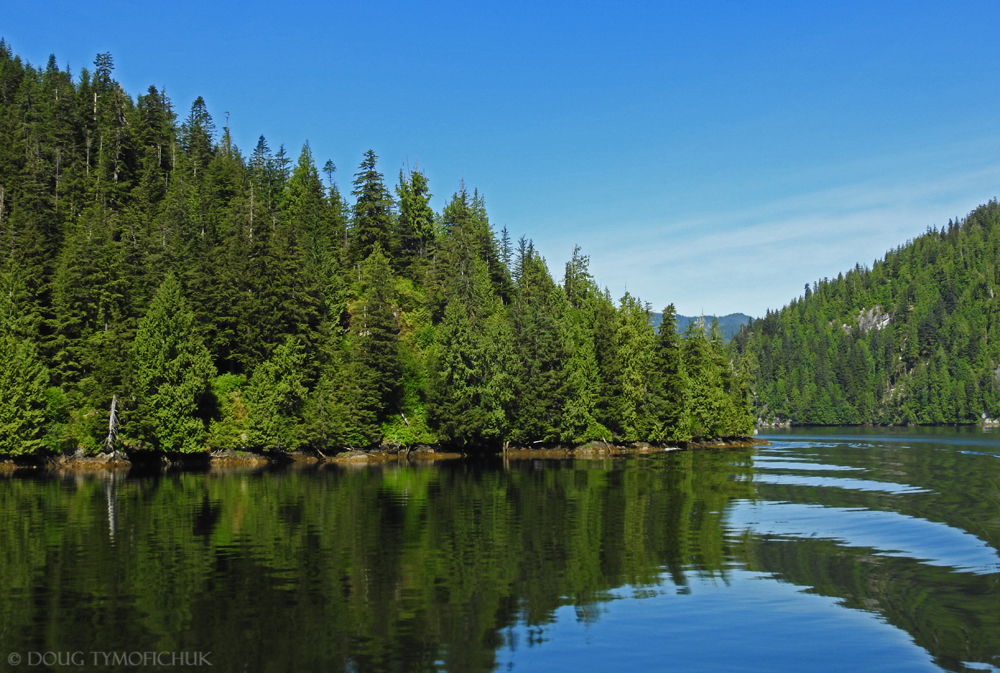 We're in the sanctuary now, so hopefully we'll see some bears soon.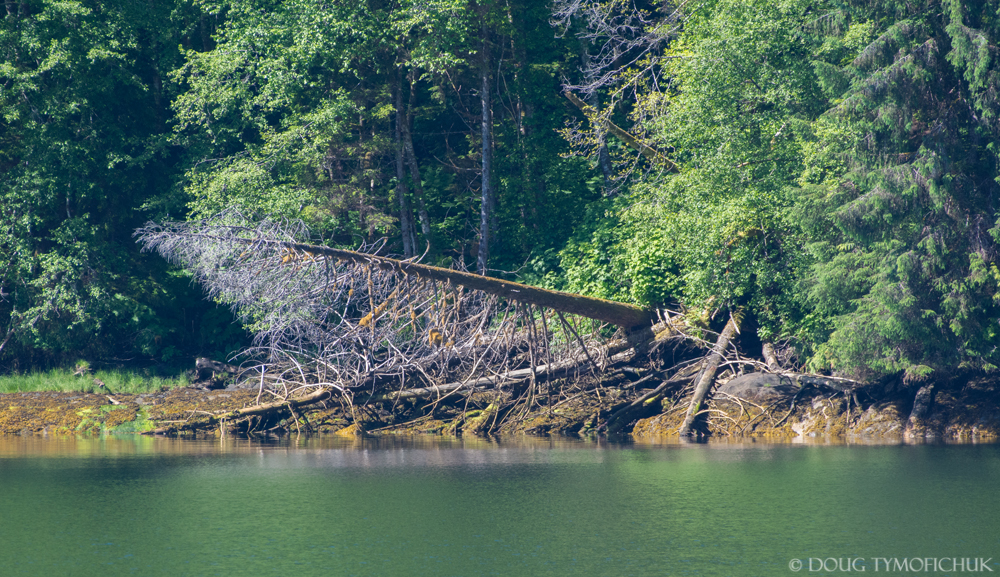 Ah, there's one now!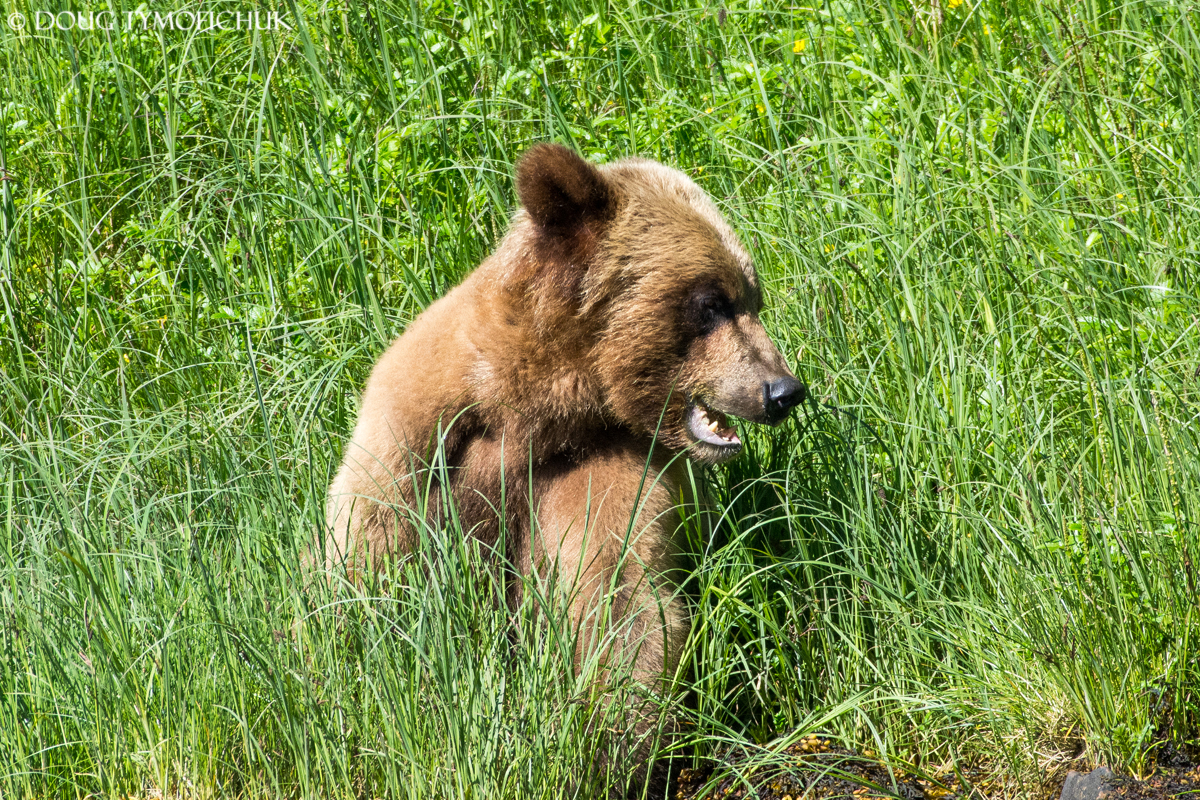 When they wake up from hibernation, there is not much food around at first, so they eat the sedge grass that grows at the water's edge. It takes a lot of grass to keep a grizzly fed!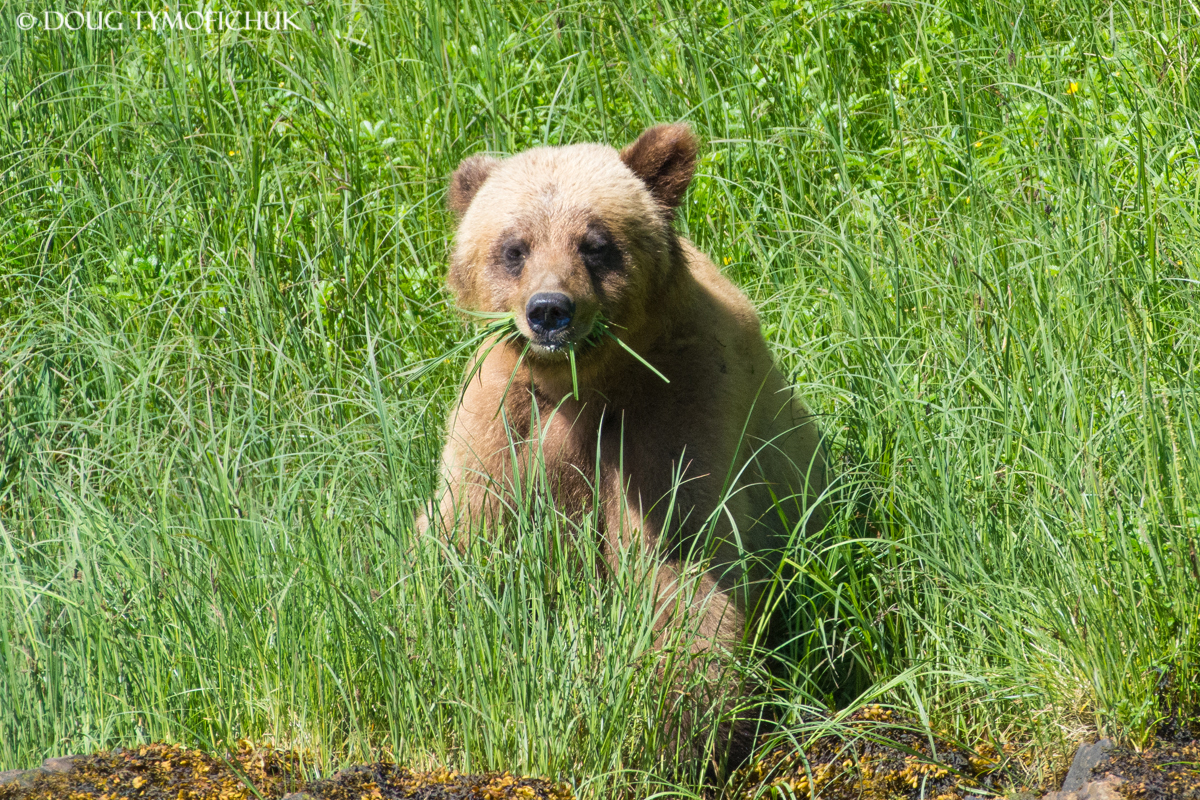 Hello big guy!!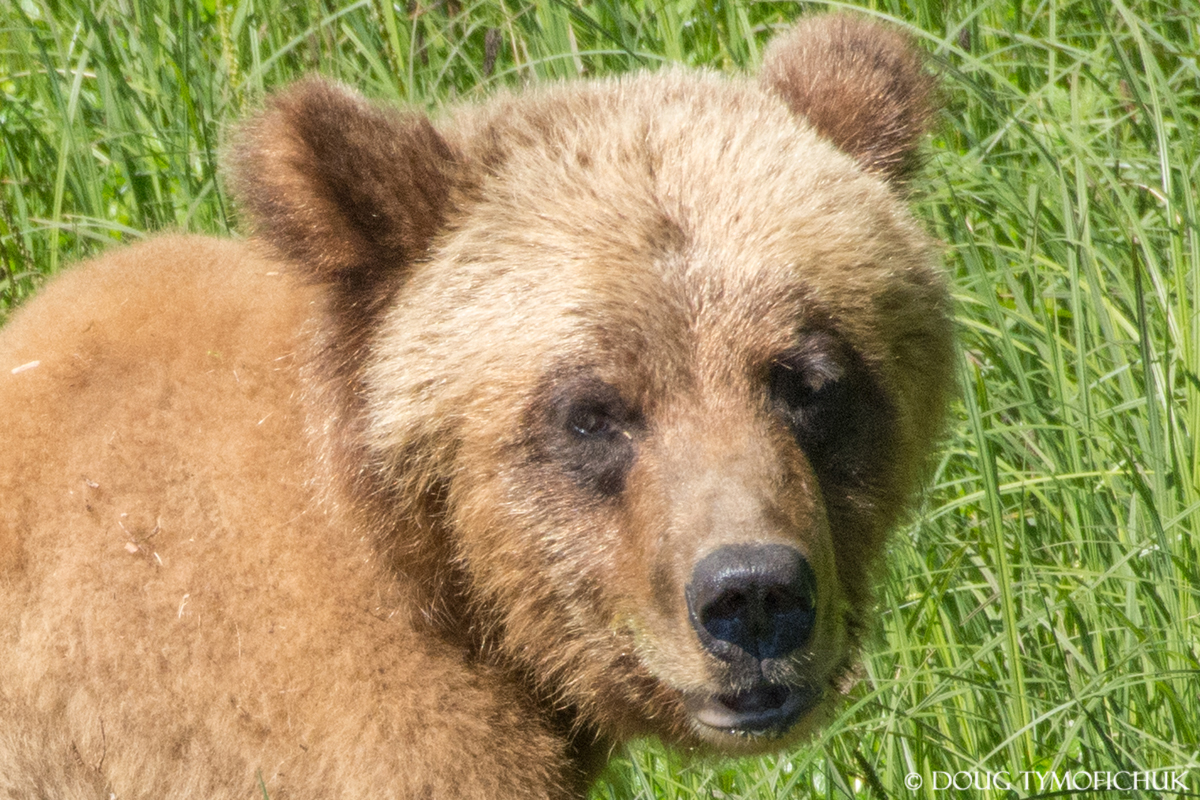 Well, enough grass for now.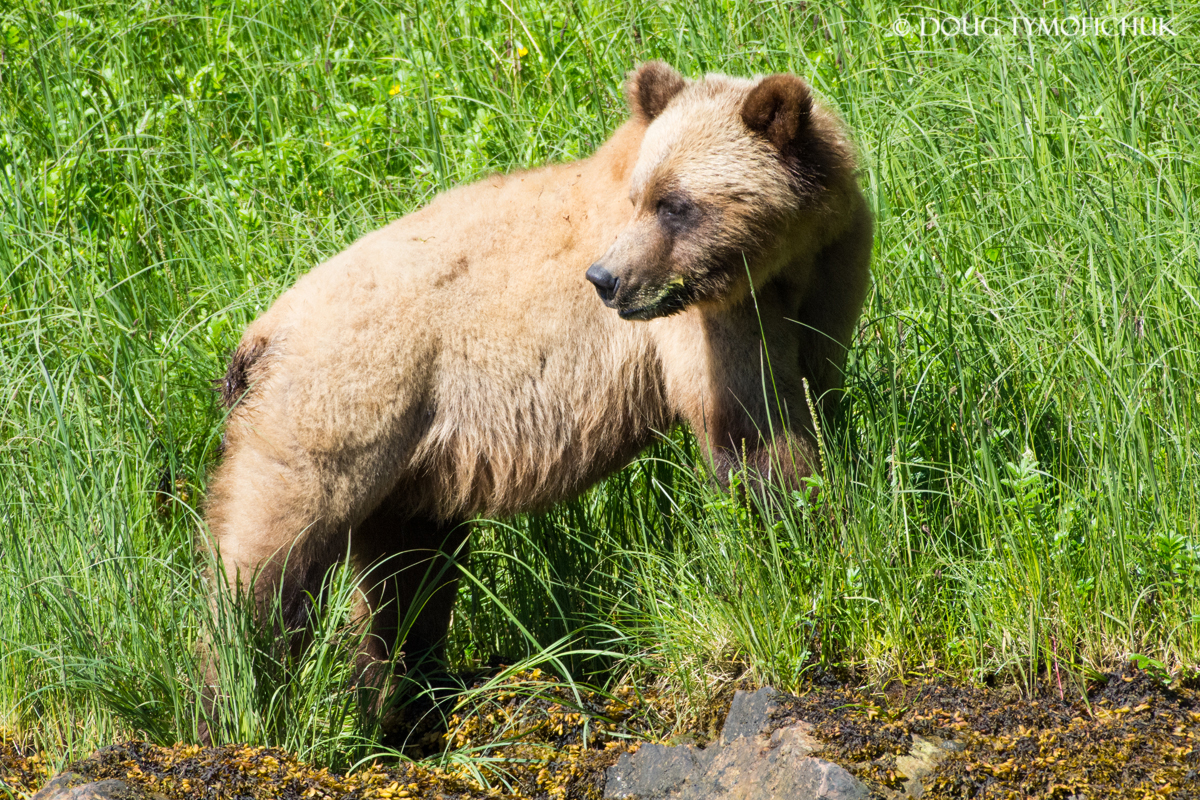 Time to get up and move around.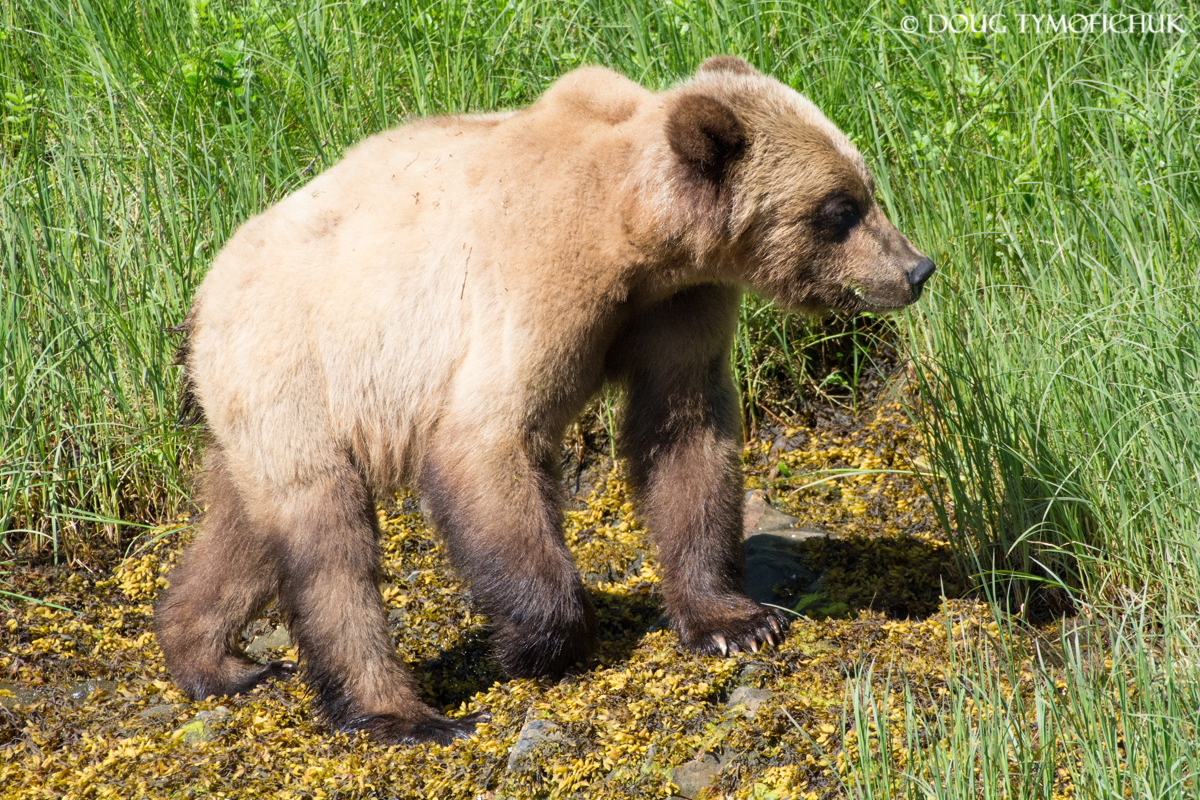 The sound of all that water is making me thirsty!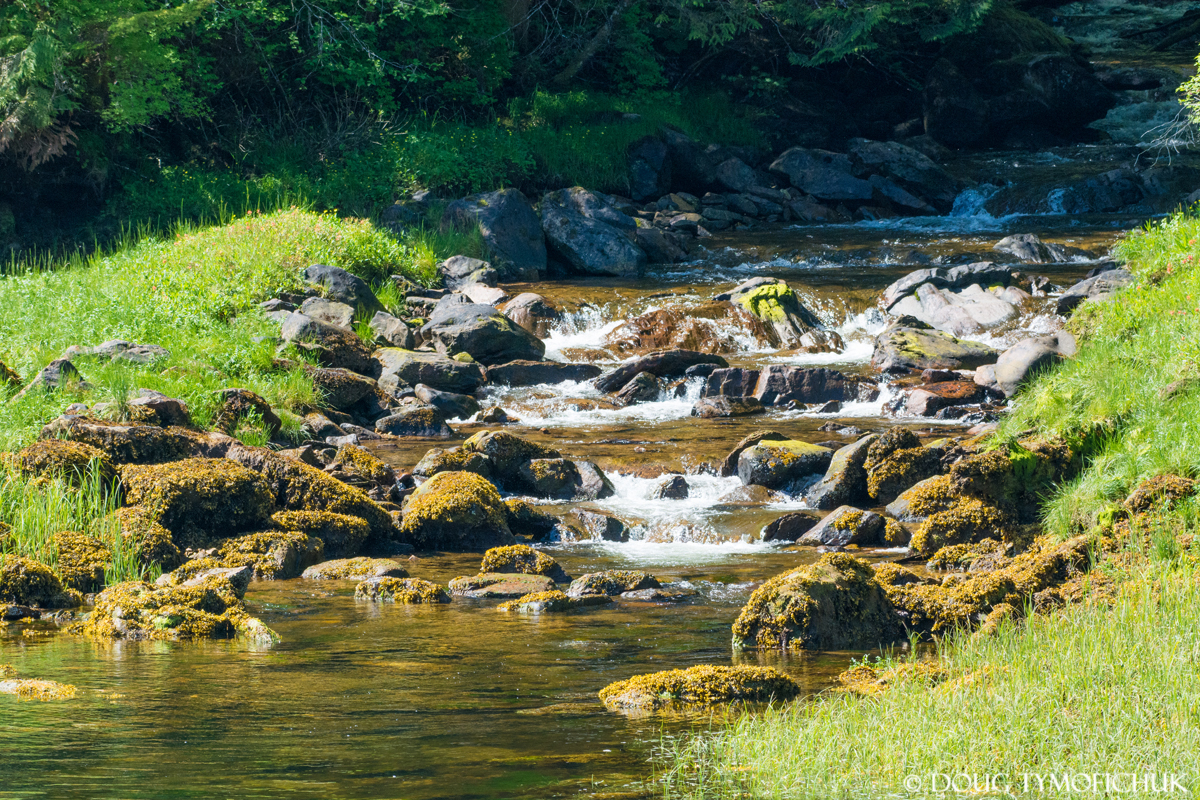 I think that I'll head down to the inlet for a drink.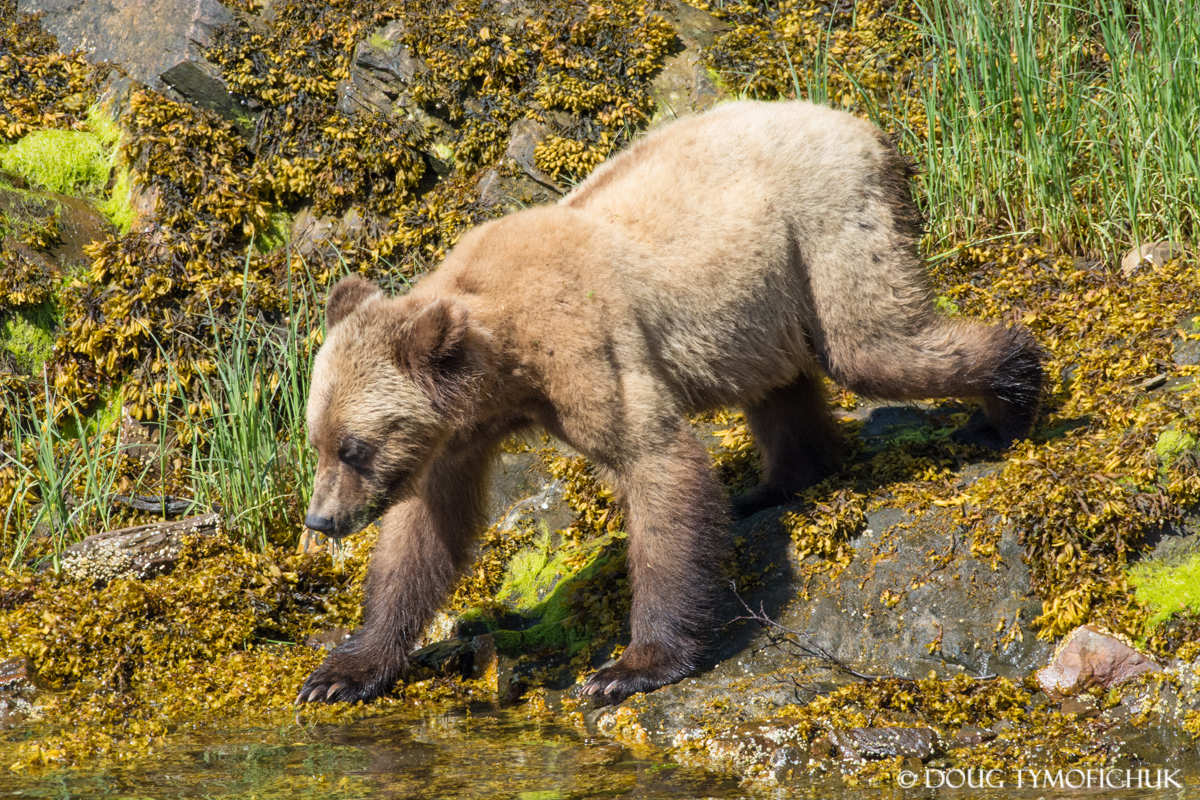 Mmmmmmm, that's better!!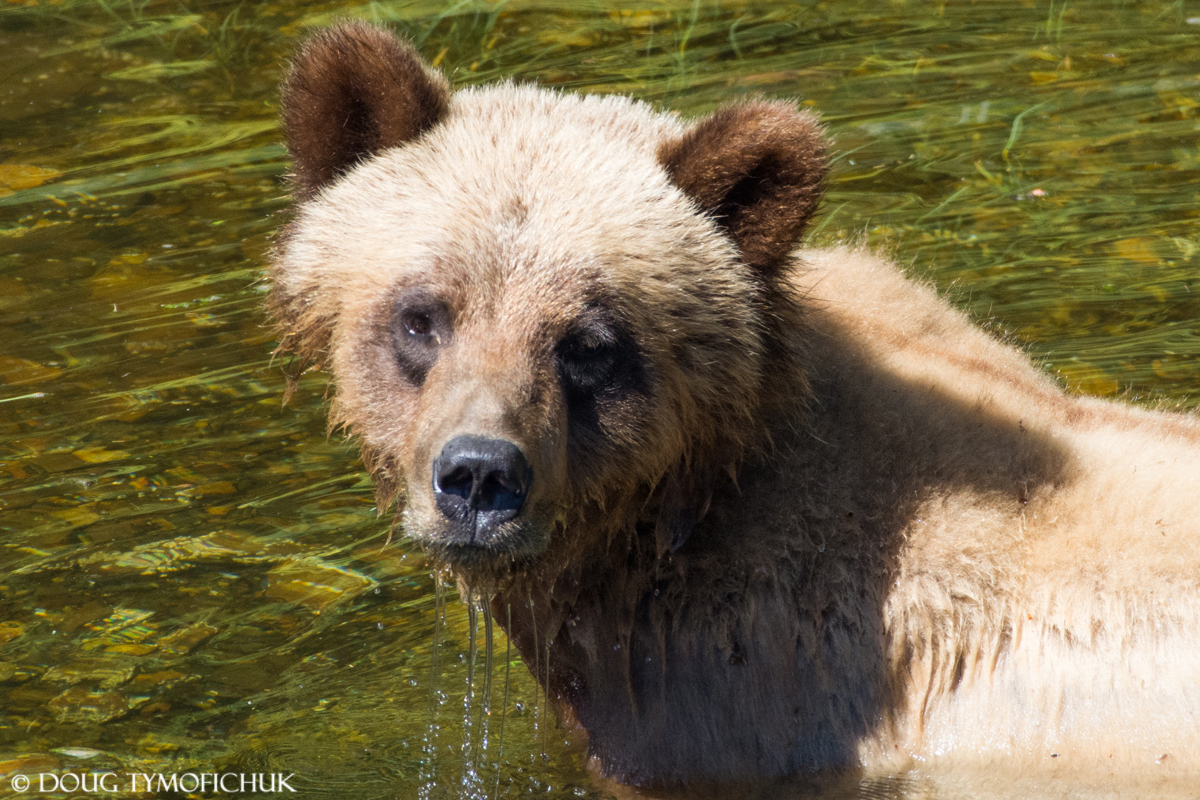 Let's go further up into the sanctuary and see what else is here.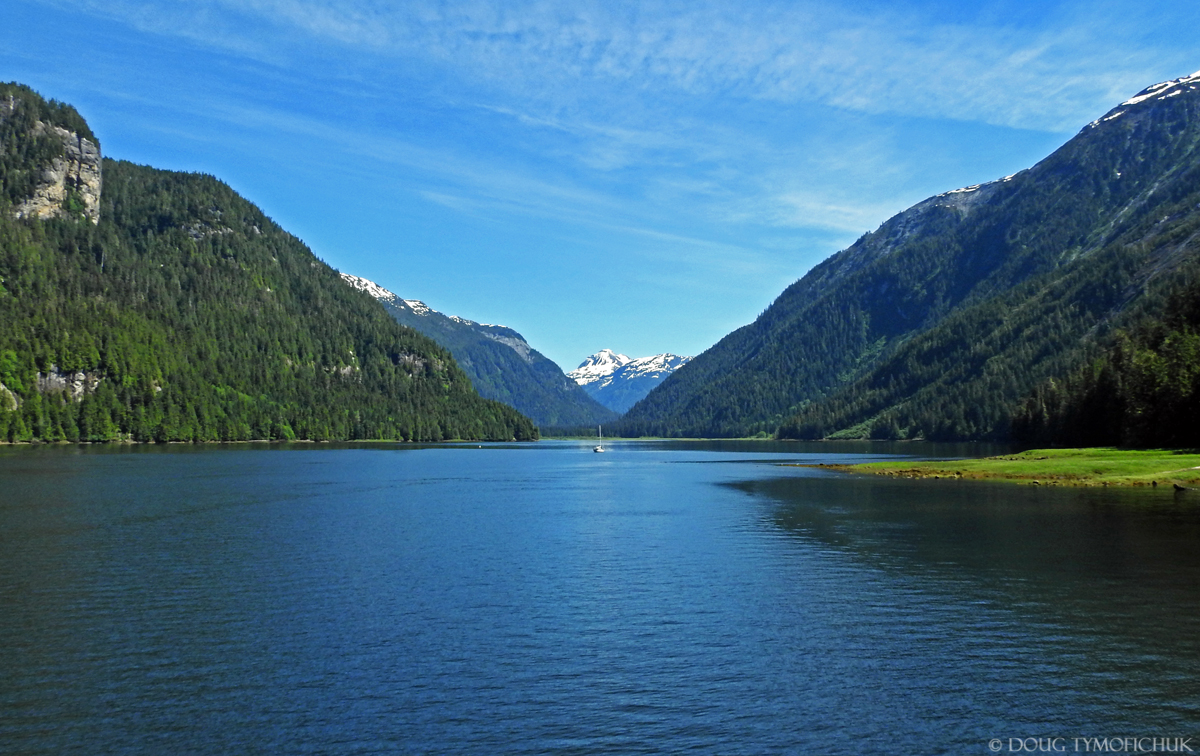 Here's a big mamma grizzly and three yearling cubs.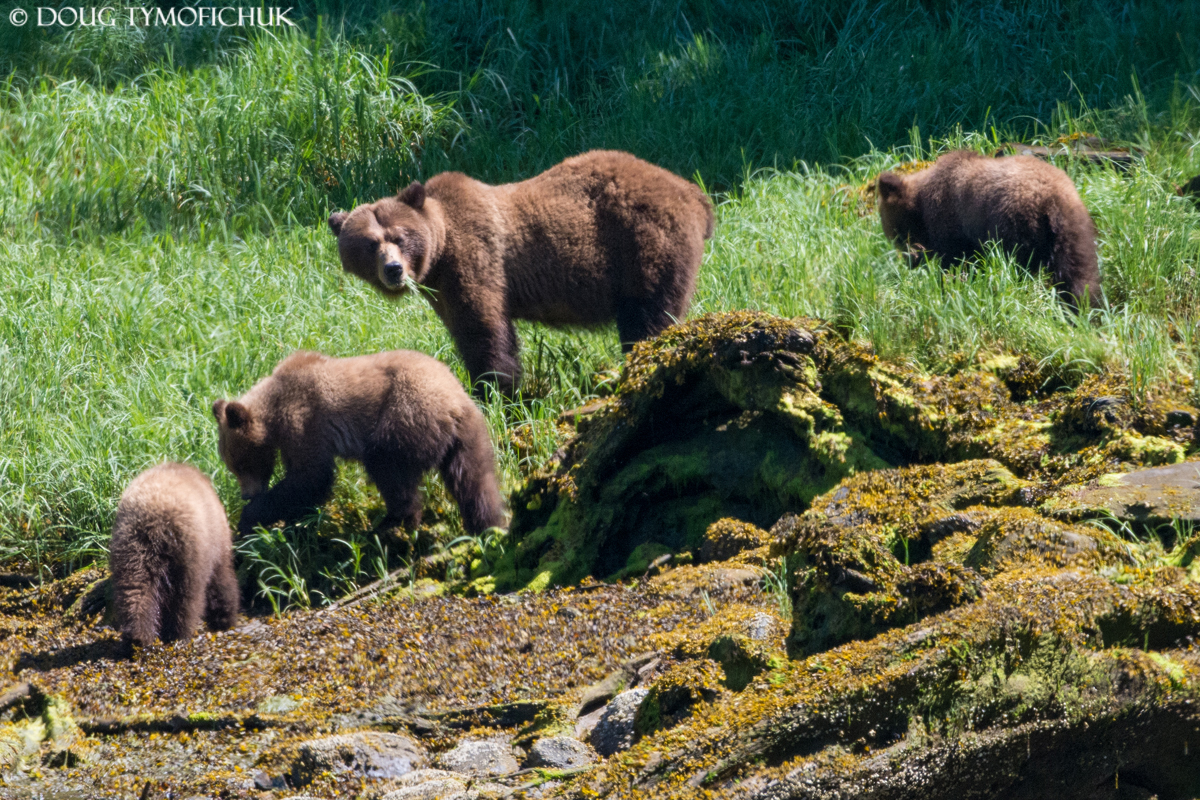 Stay up here with me little one!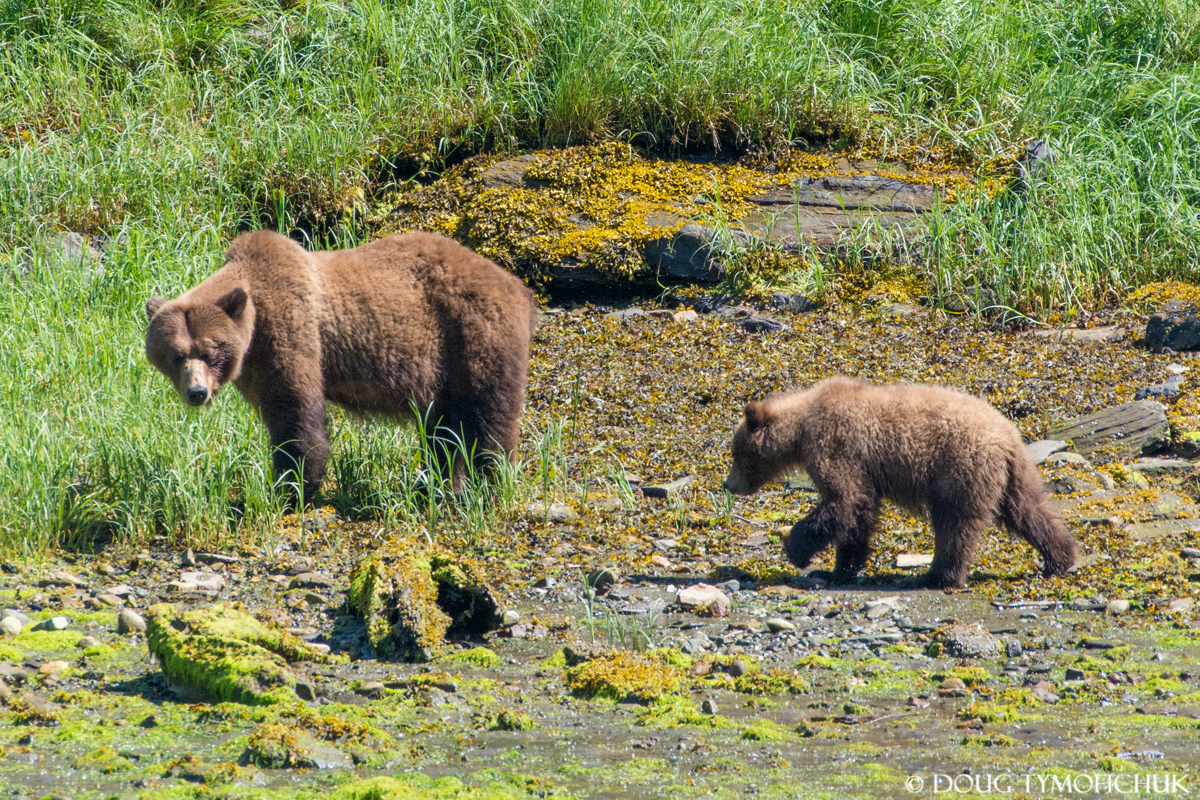 Everywhere we looked we were surrounded by awesome natural vistas.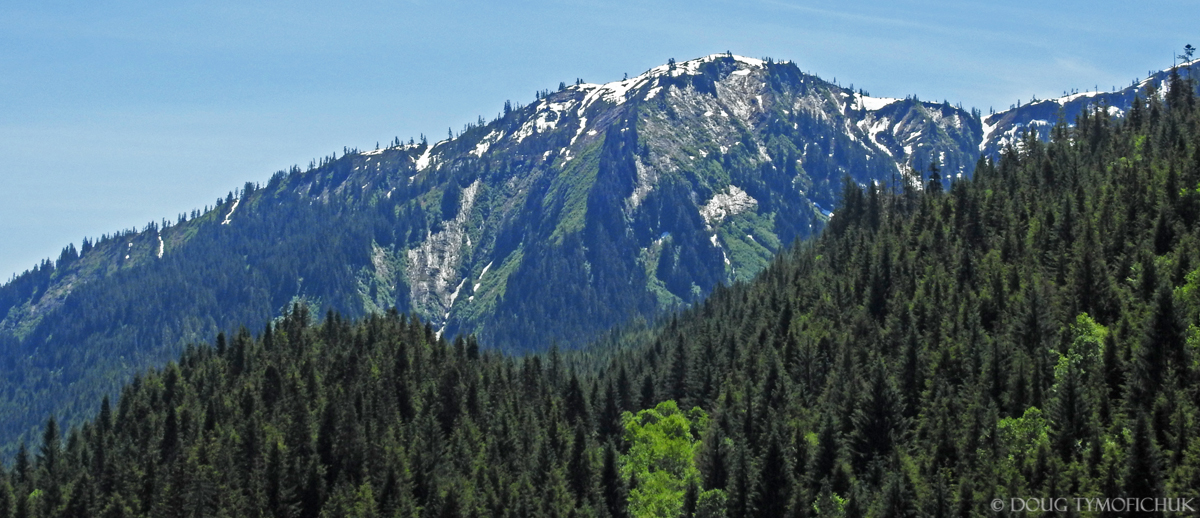 Another type of food for the bears in early spring is mussels from the sandbars.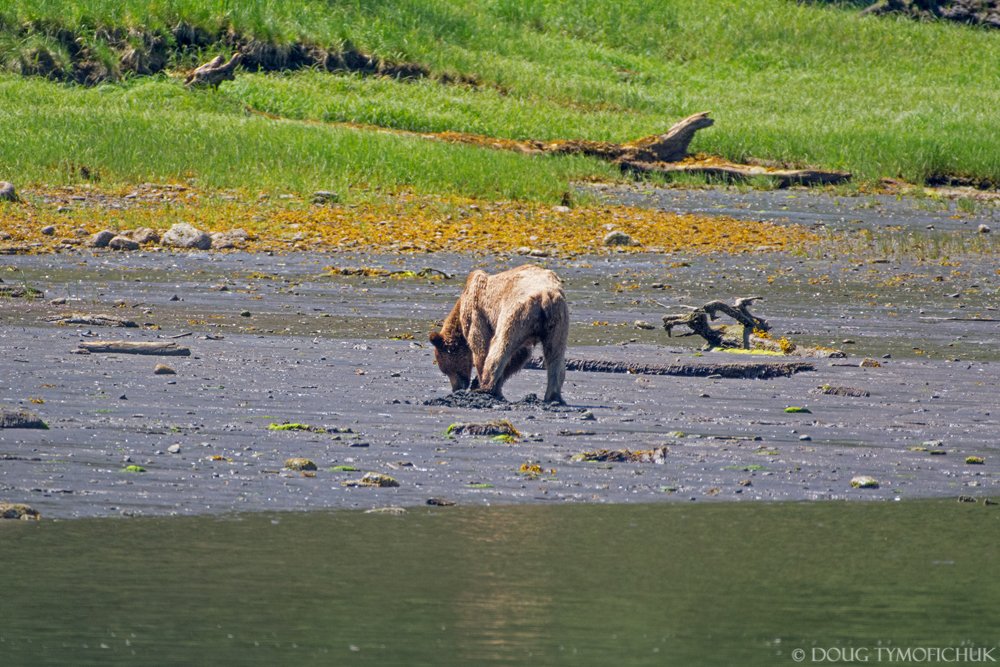 It's a lot of digging for a few snacks.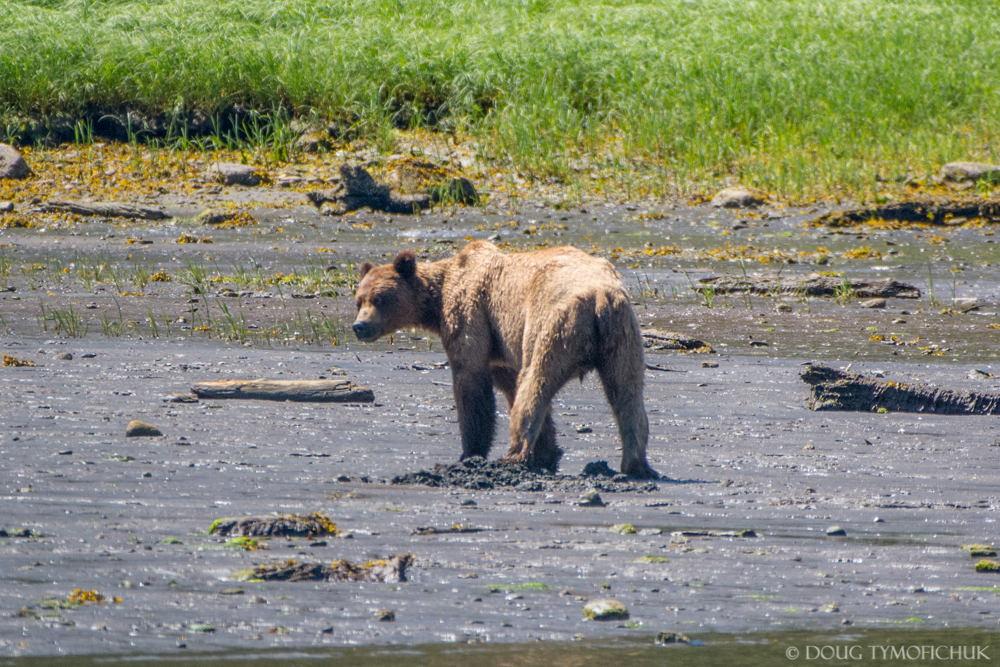 Most of the bears stuck to eating the sedge grass.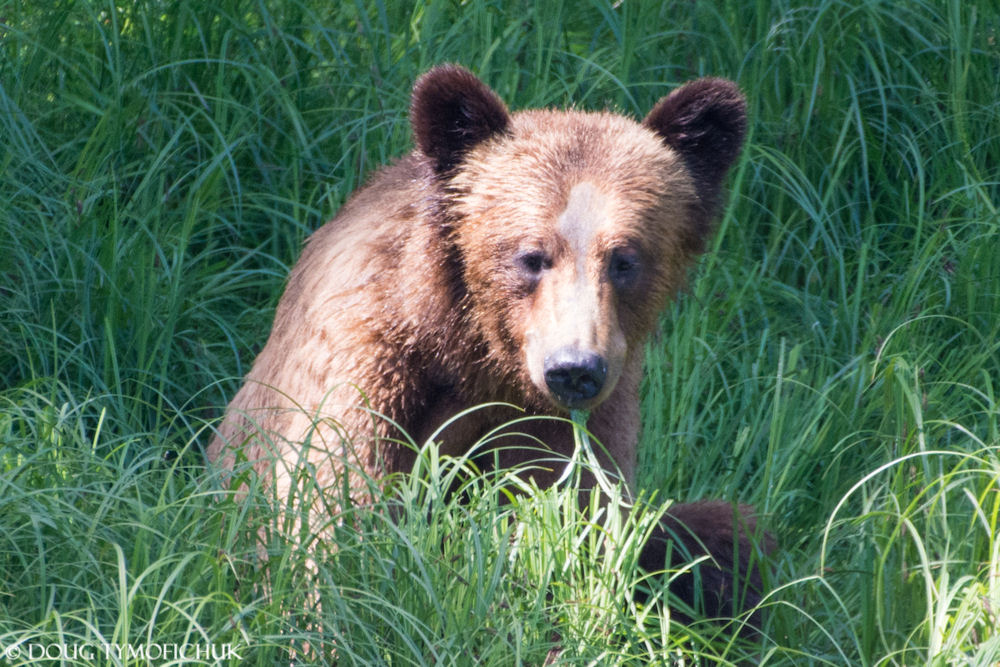 At least there is not much work required, just relaxing in the shade.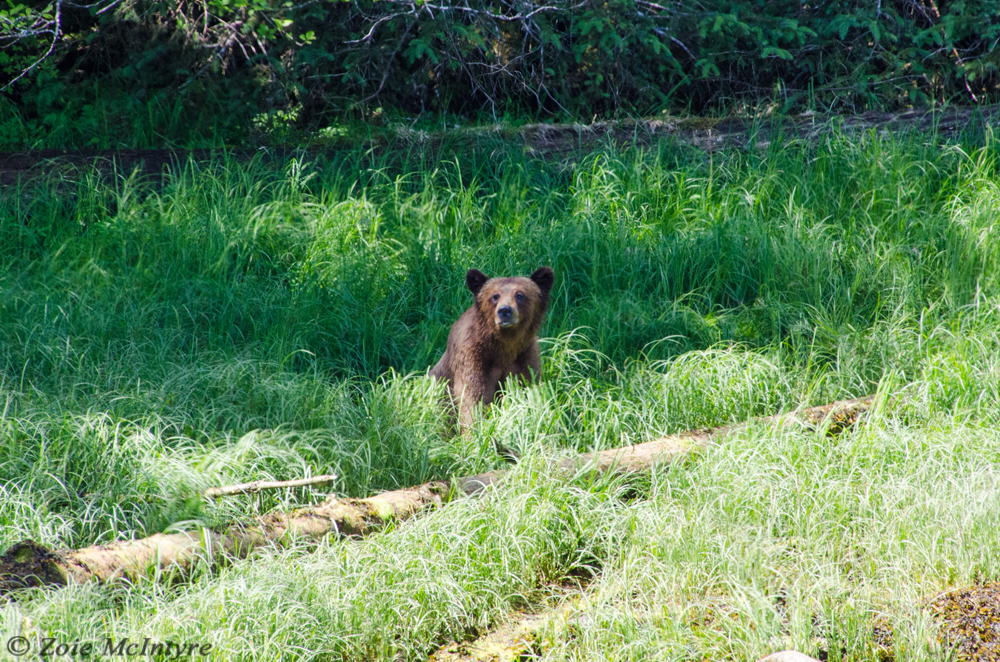 Here is Zoie, happy at having seen so many bears, as we head back out of the sanctuary.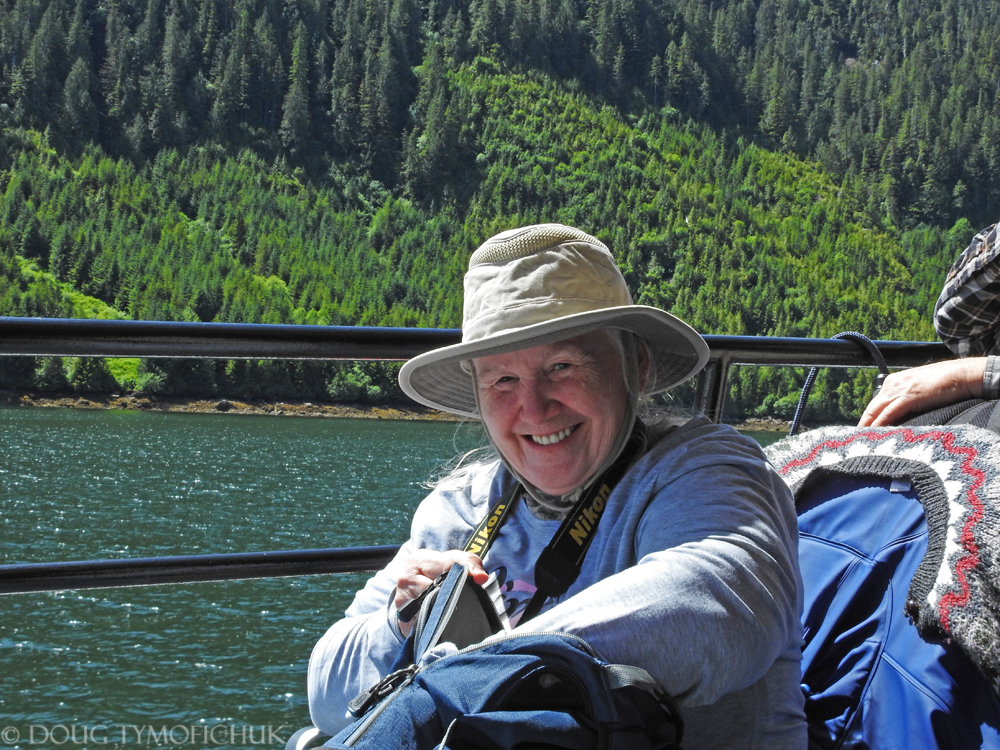 Doug had a great time as well. We saw a total of about 15 grizzlys.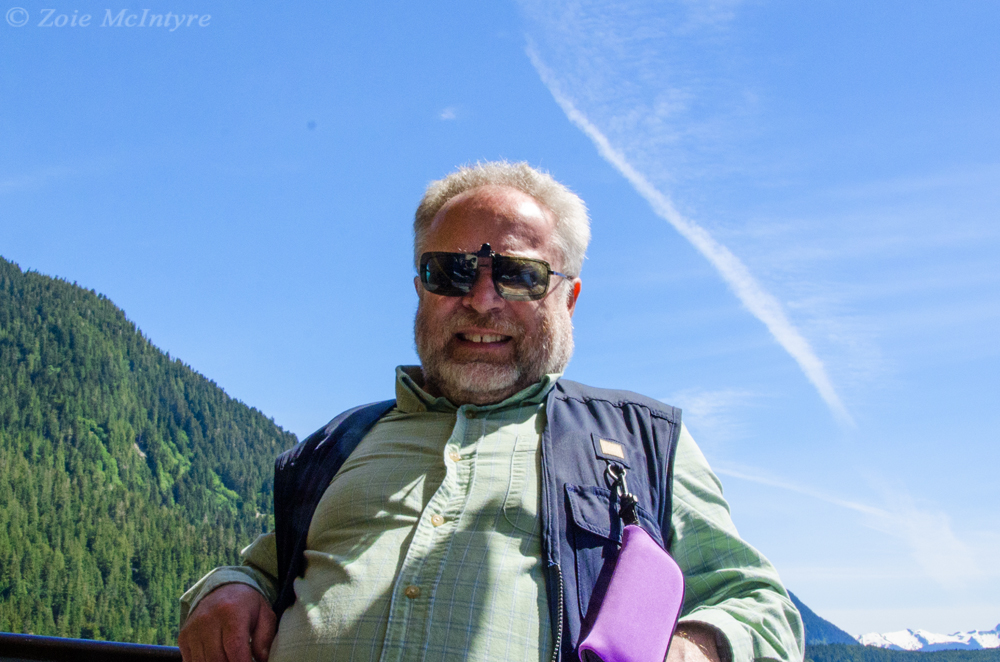 Lots of interesting rock formations passing by.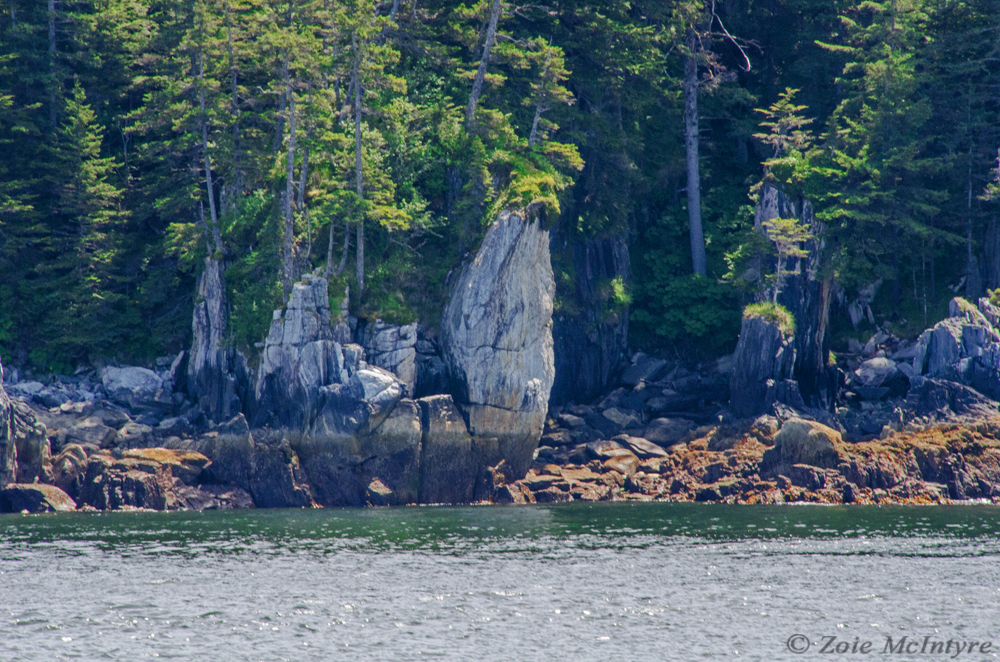 Those white rocks are very neat!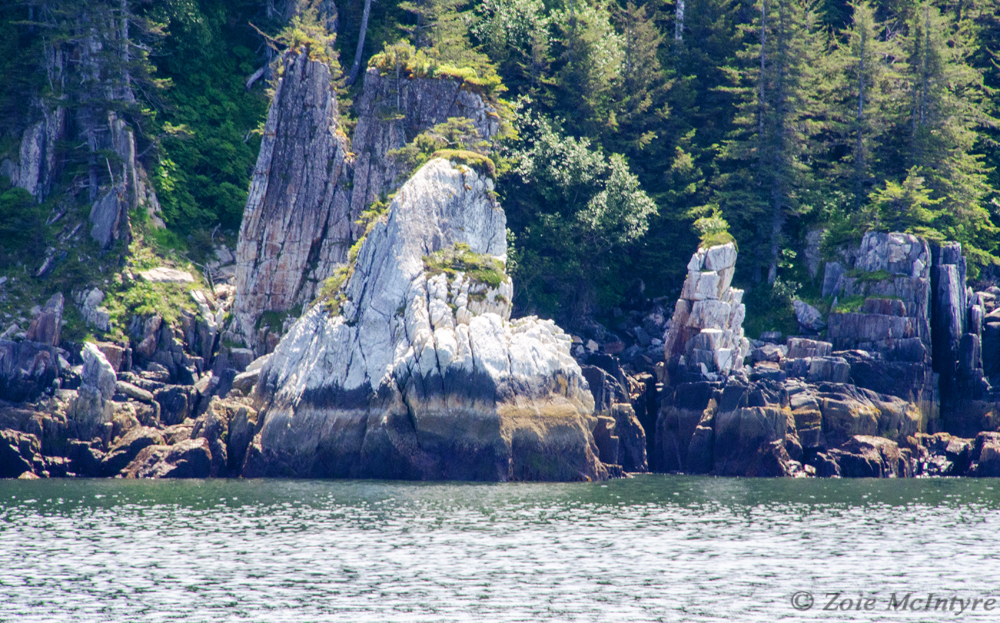 Back out of the inlet, we passed a small, rocky island with a lot of sea lions sunning themselves.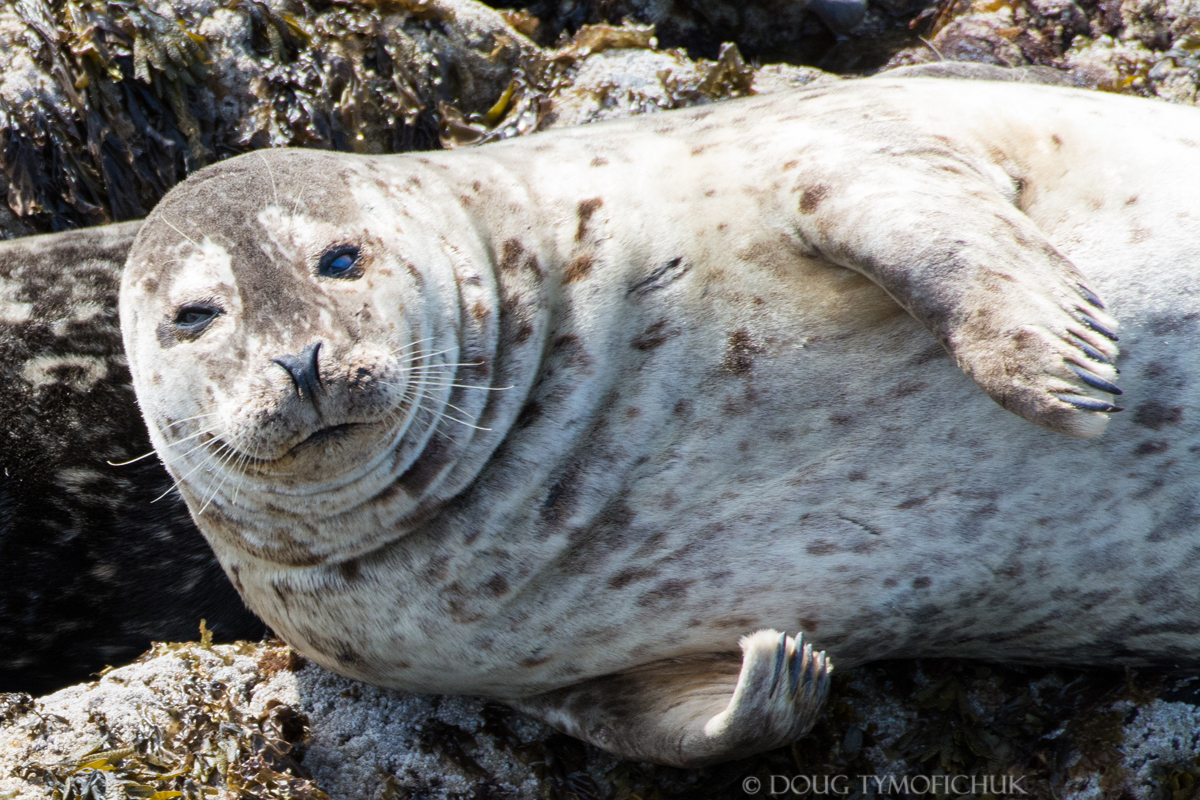 This looks like it may be a mama and her baby. She has an injury on her side.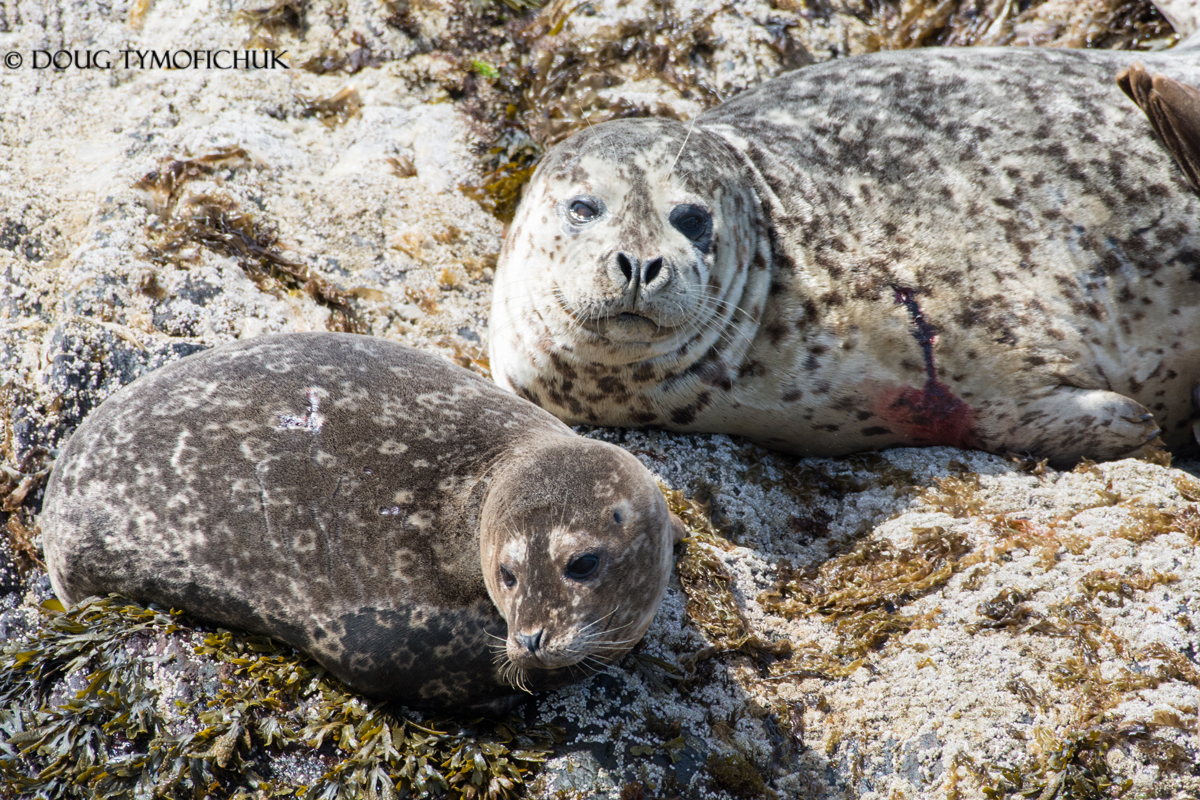 Look, a pretty blue one!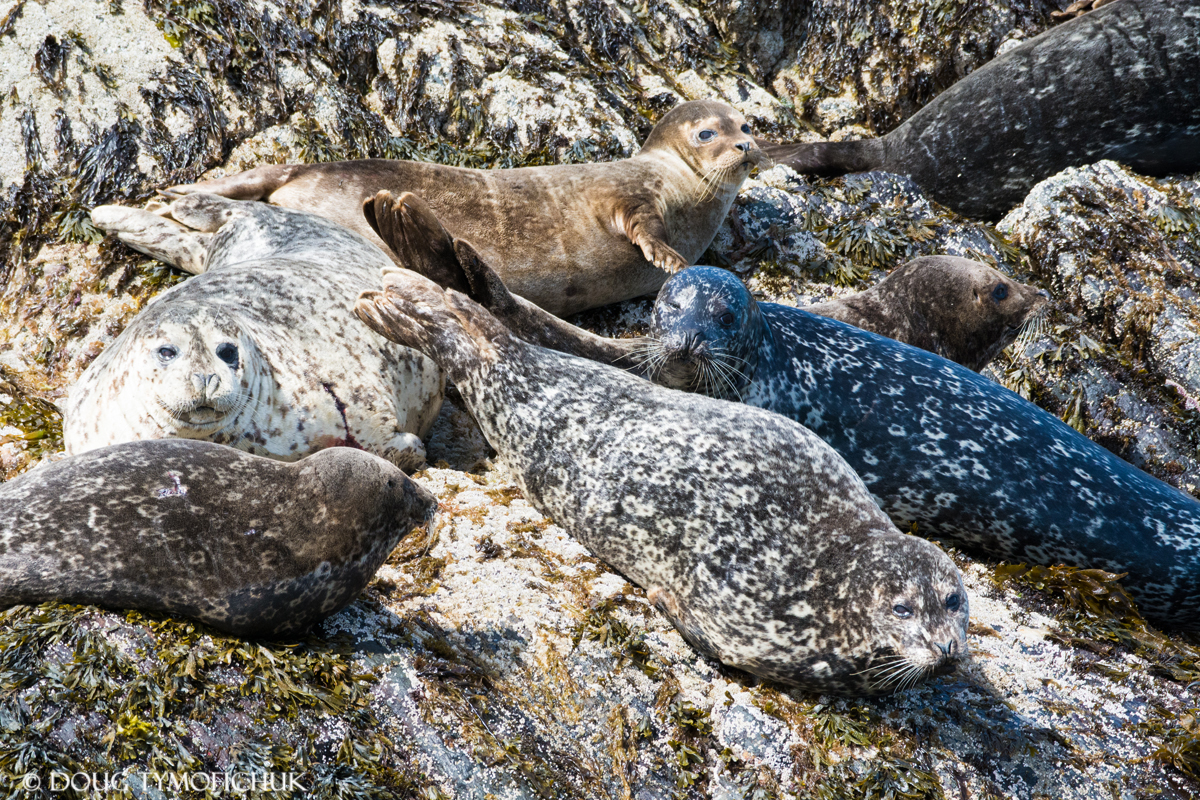 There was lots of activity now that we were back out in the open sea.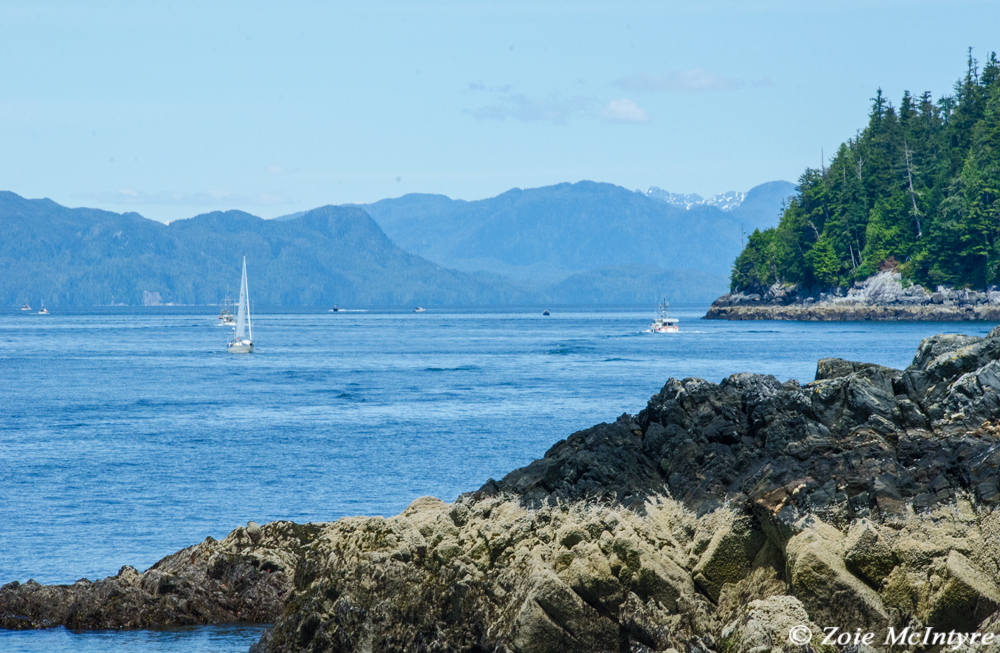 Next we sailed out to Green Island with it's lighthouse.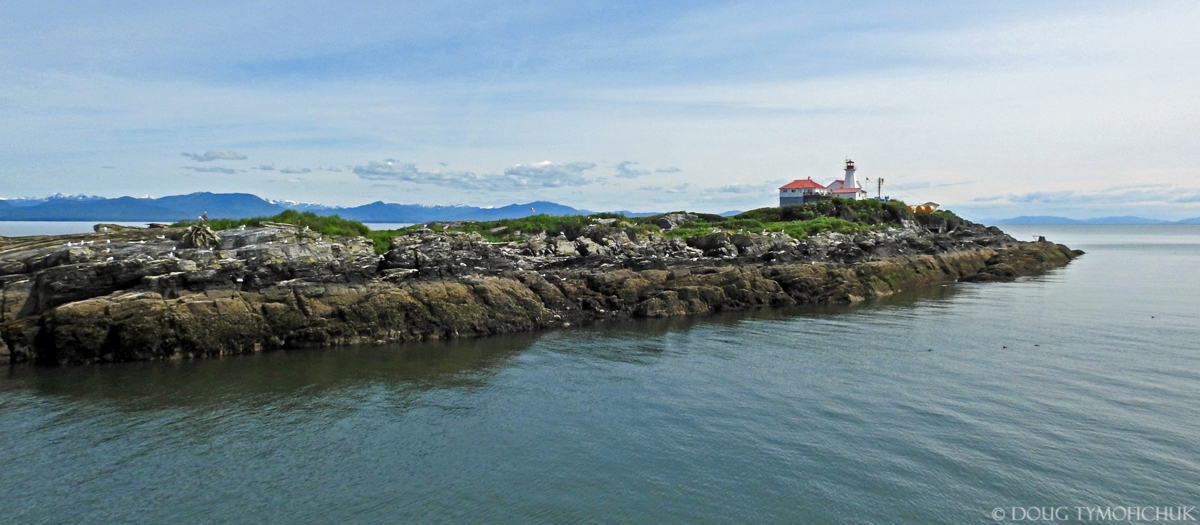 This rocky isle attracts all kinds of birds.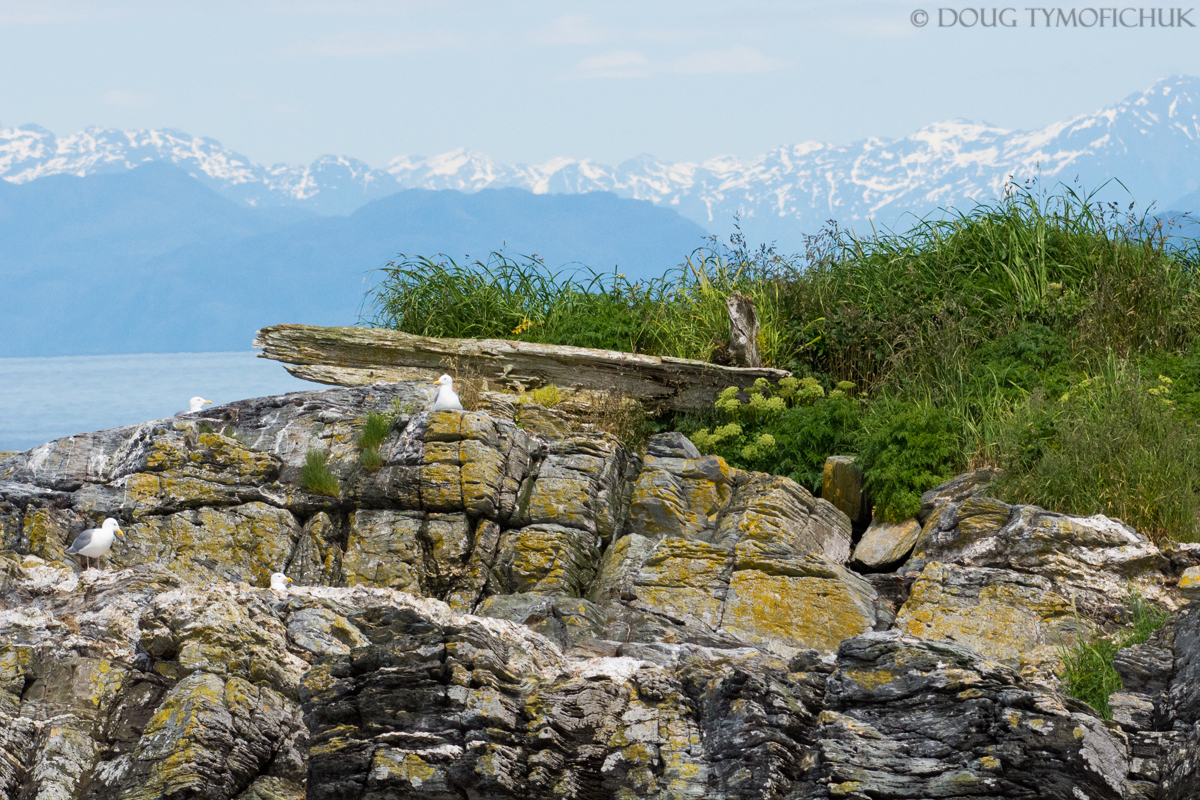 Here are some ducks taking off from the water, not wanting to be too close to our large boat as it moves past.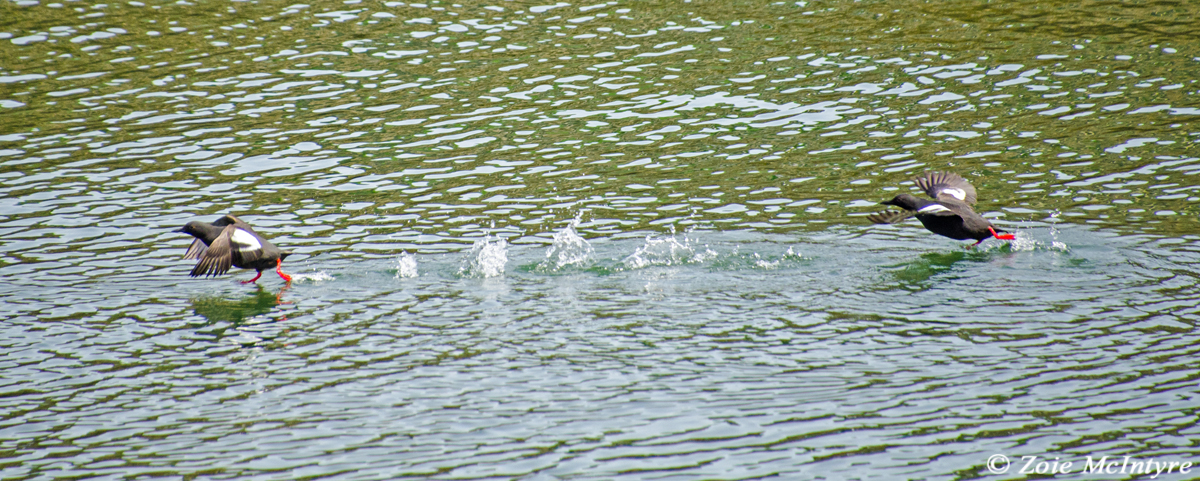 Lots of pretty vegetation growing up amoung the rocks.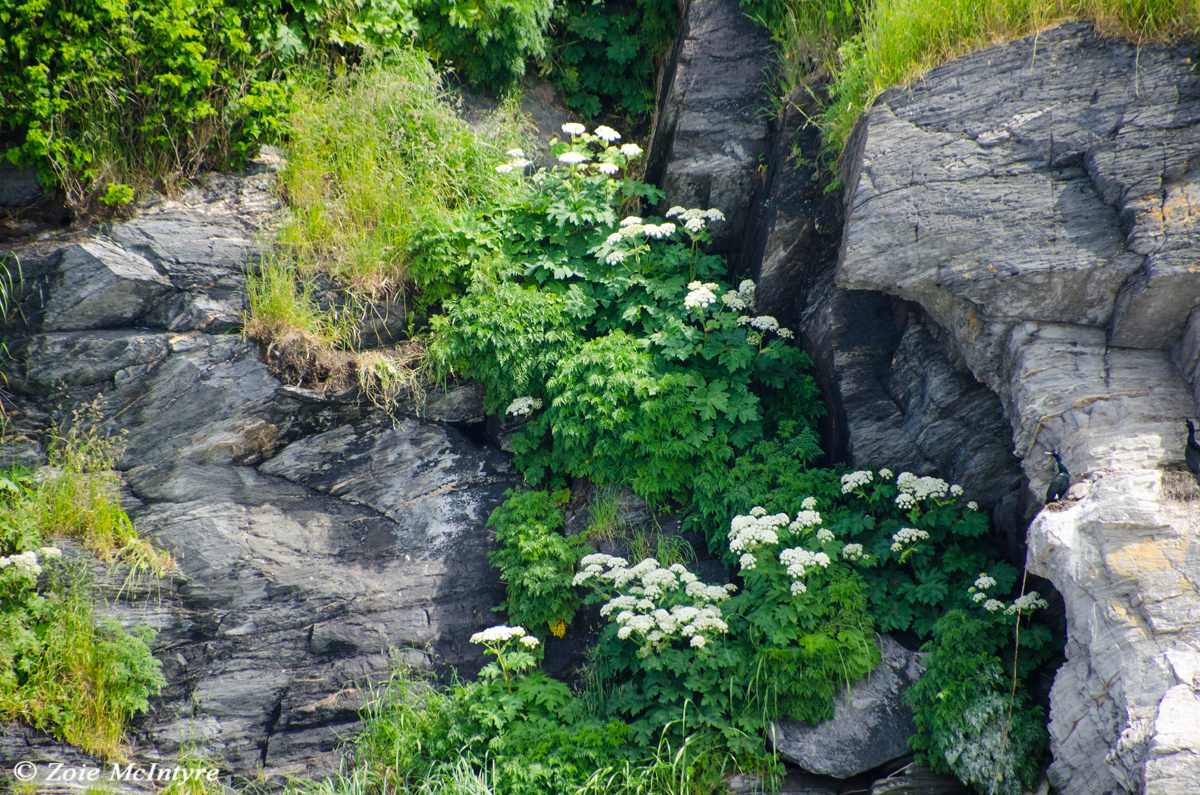 On a tall perch is a golden eagle grandly surveying it's domain.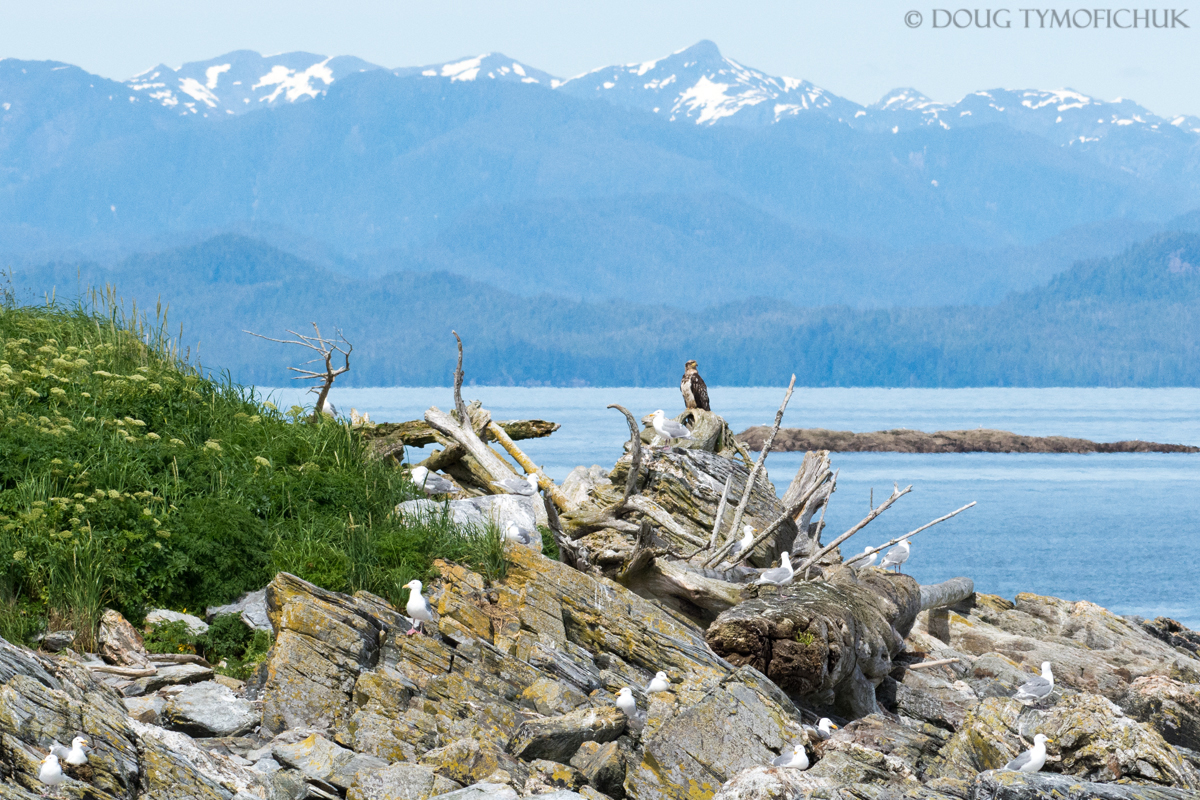 And a group of colorful red-faced cormorants.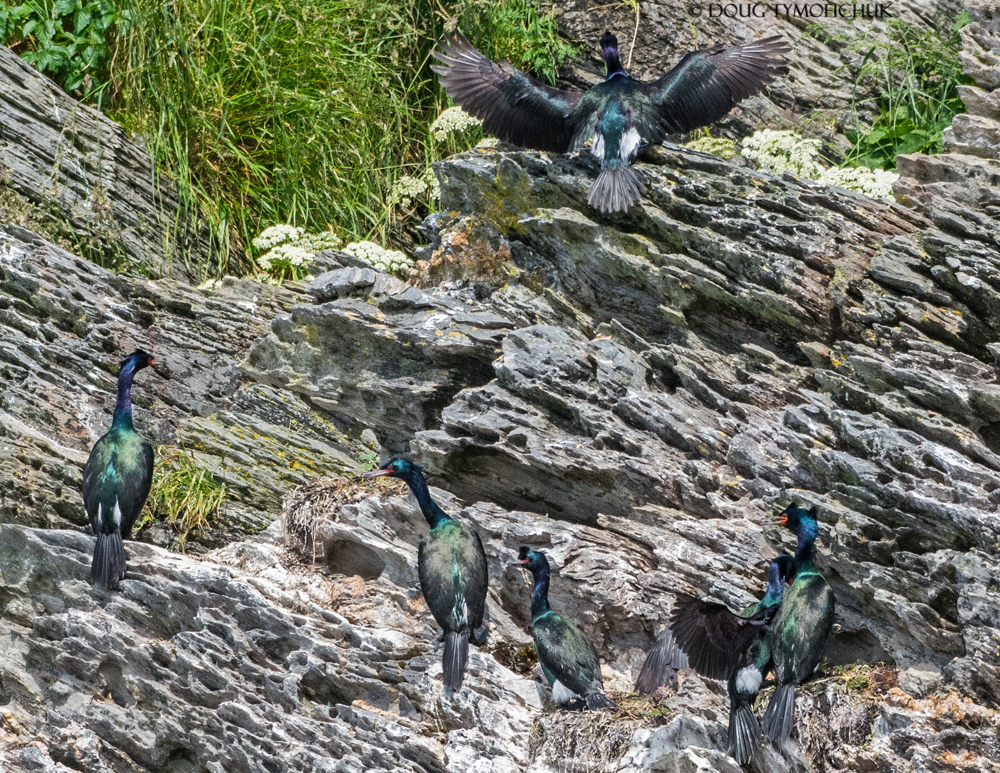 Lots of cool driftwood here too!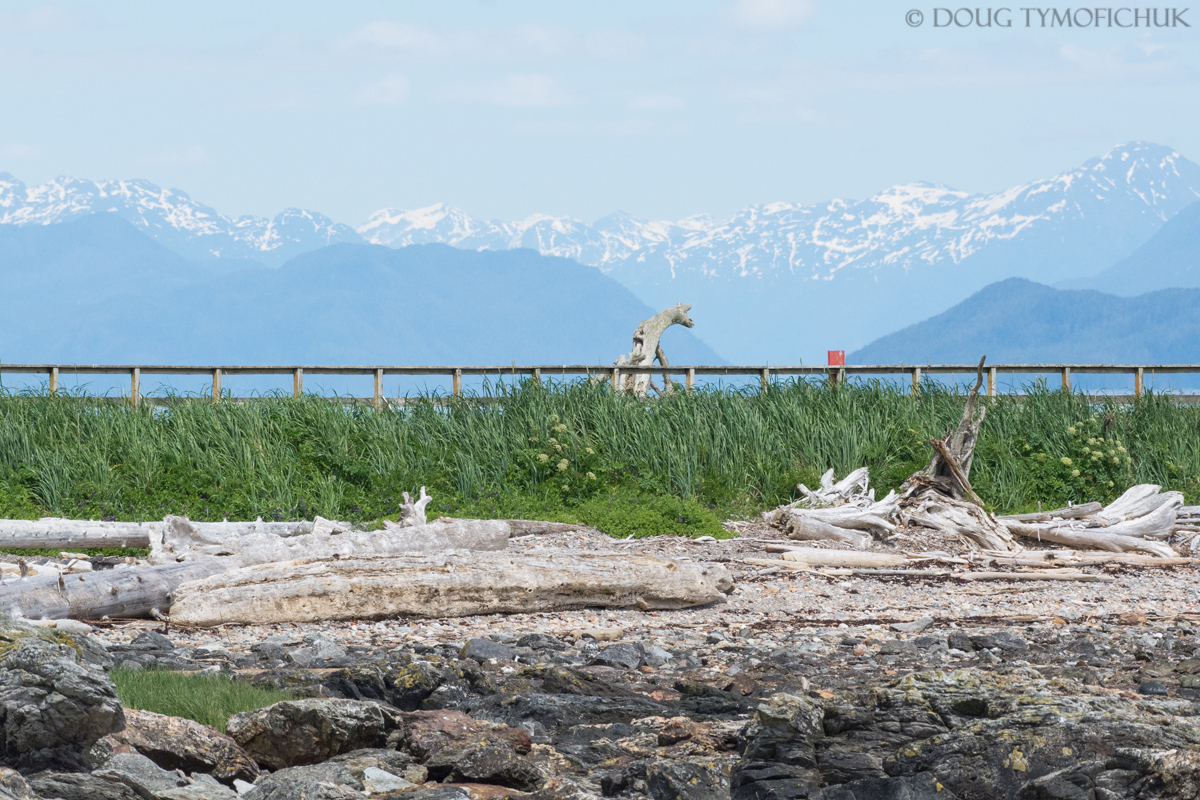 As we were heading back to Prince Rupert, we were told to watch out for bald eagles. Sure enough, before long one had appeared above the catamaran, keeping pace with us.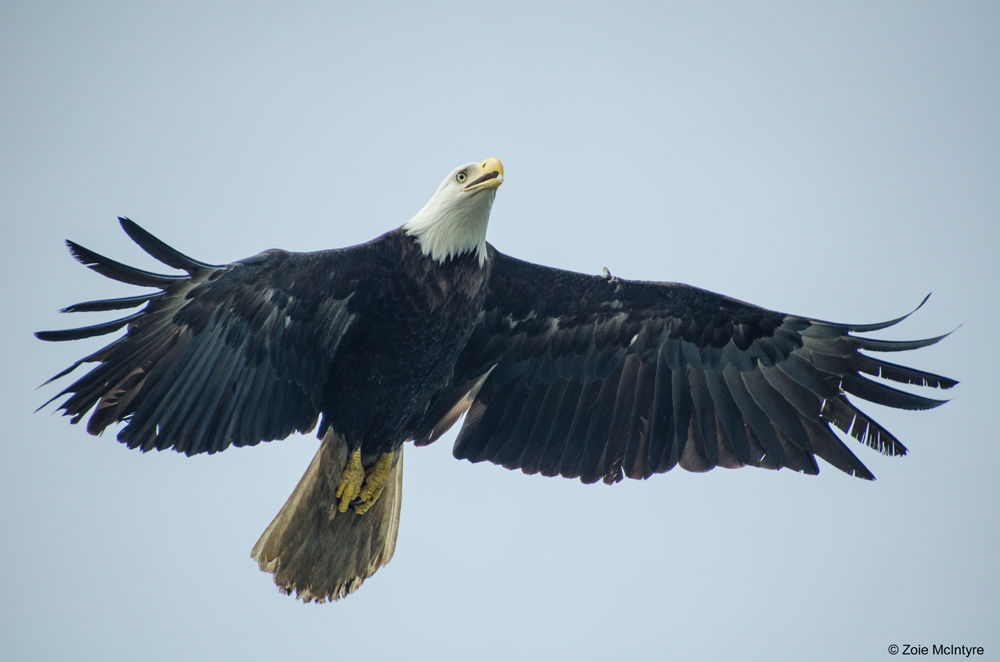 Soon we were surrounded by them, literally dozens of eagles on all sides and above!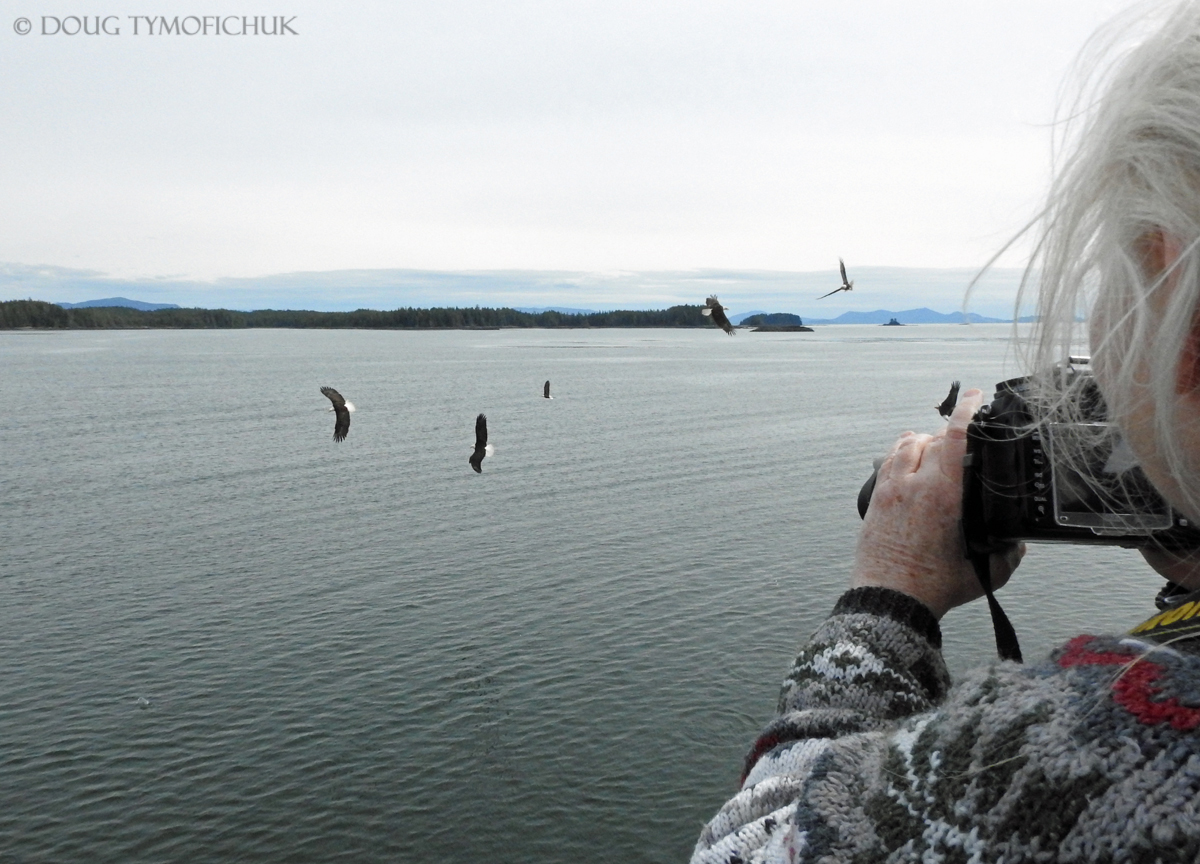 They must be here for a reason, so many so close.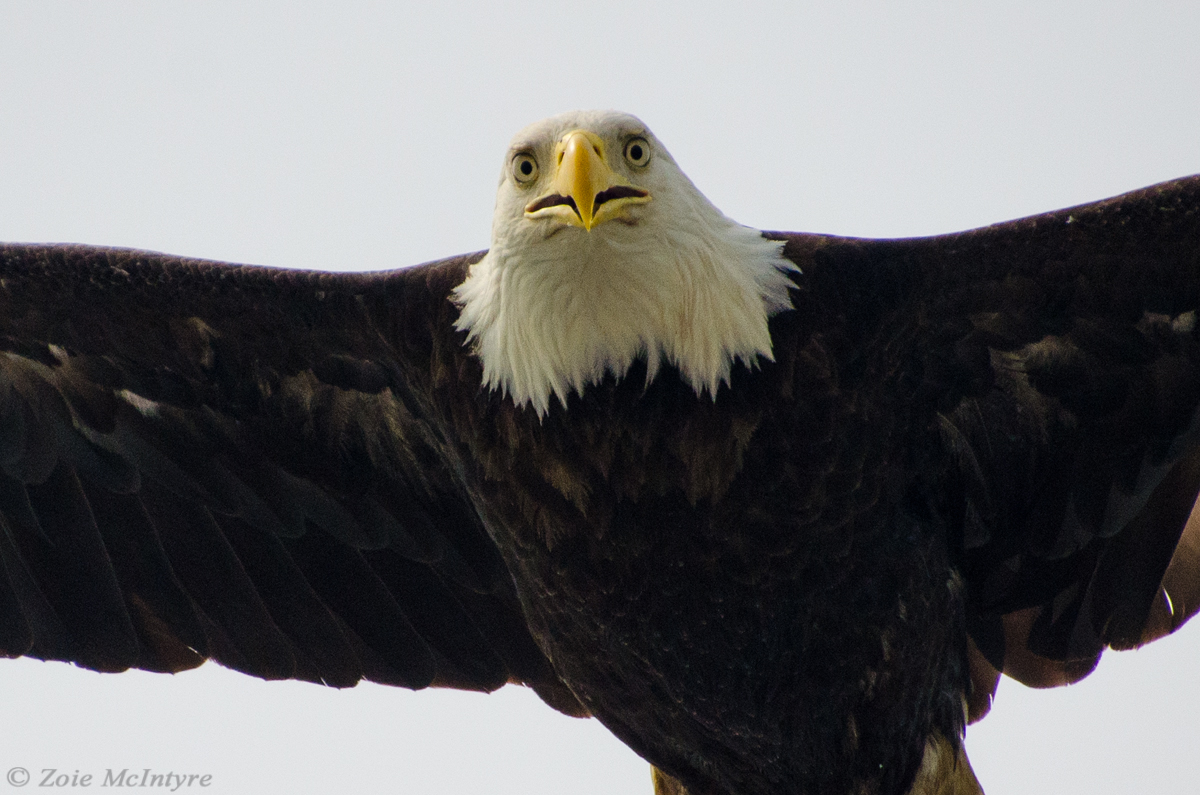 Apparently the eagles are fed raw meat from the boat on a regular basis, and have learned that feeding time is when the catamaran is returning to port.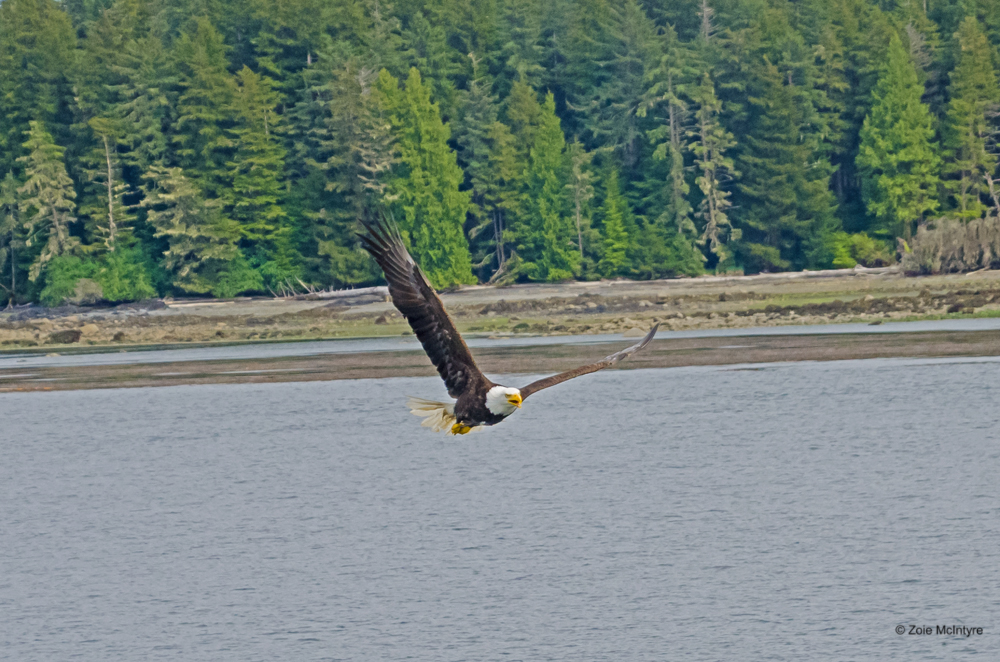 They swooped in and out, catching food from the air or down on the water.

It's surprising how agile they are in the air for such big birds!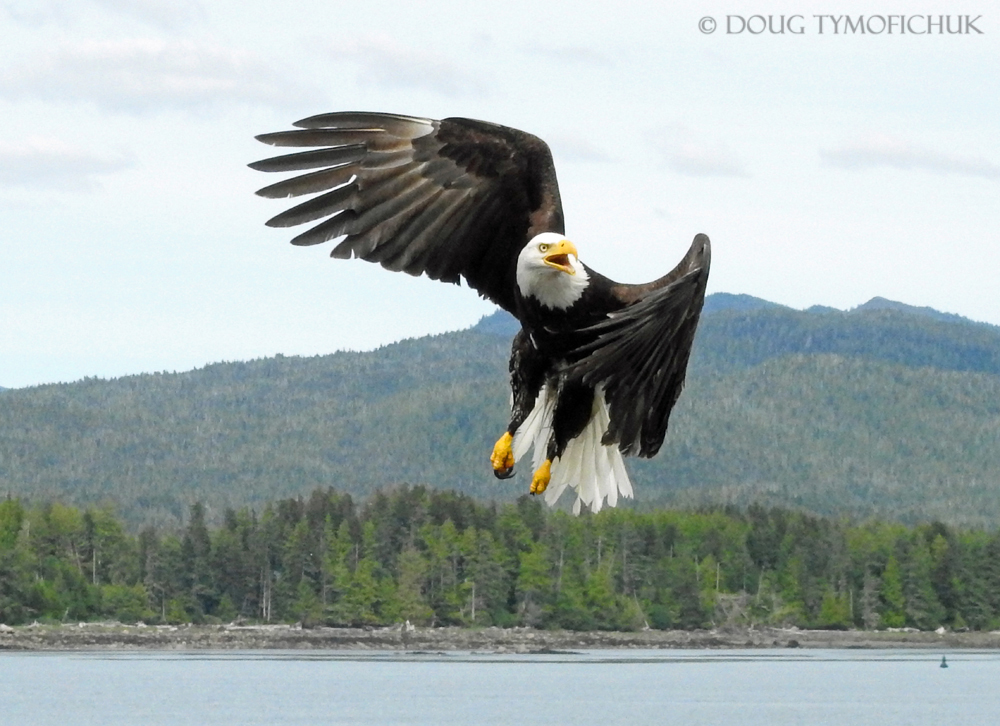 We never got tired of seeing such majestic creatures from so close up.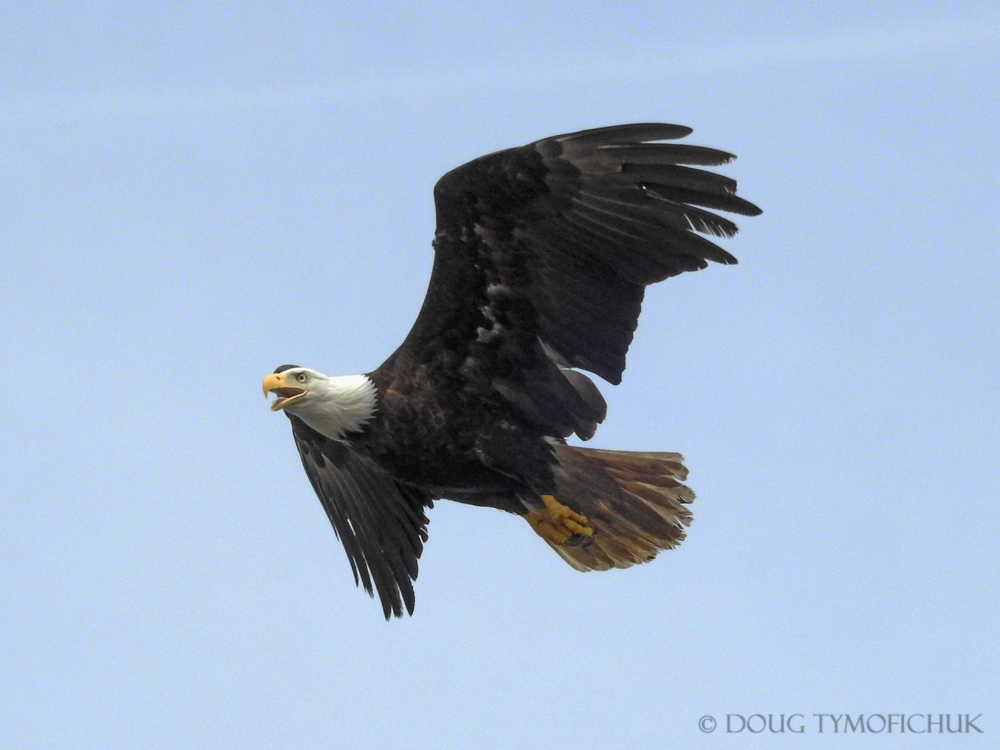 No matter how close they get to each other, they never seem to collide.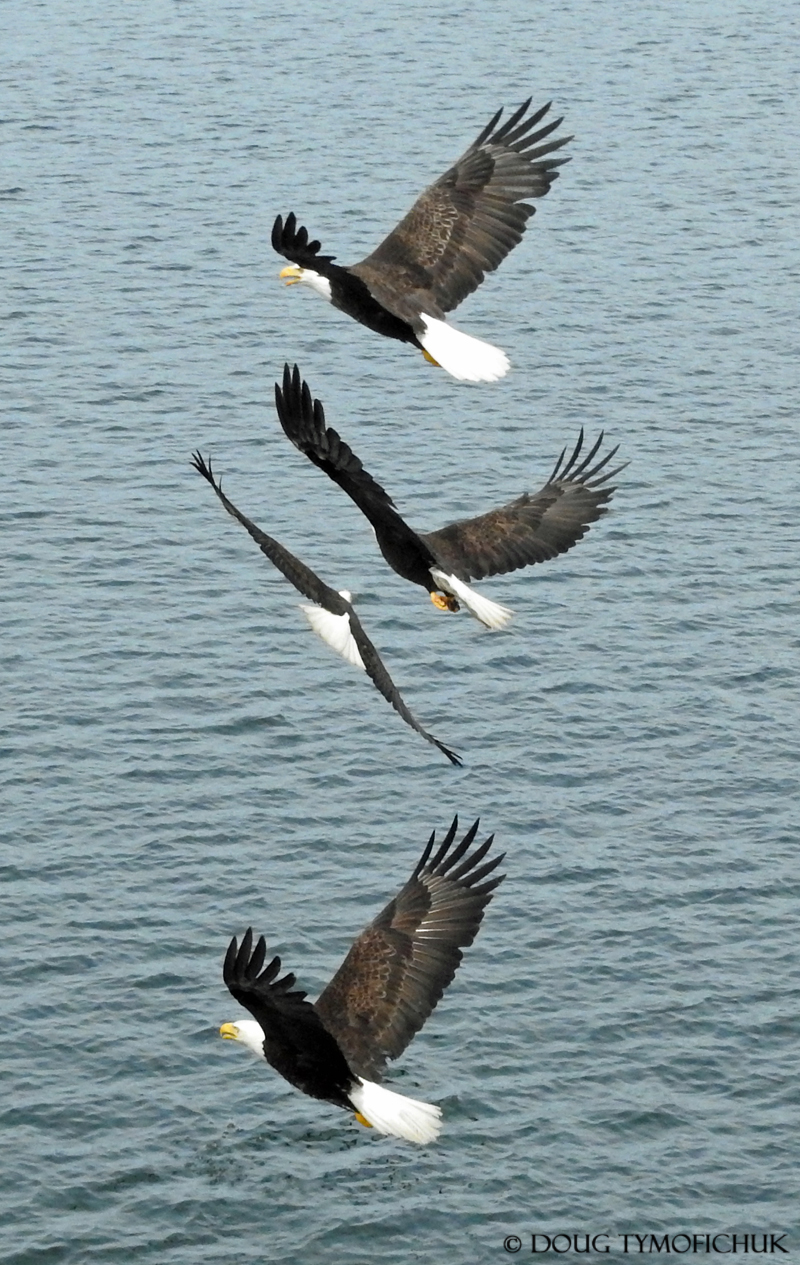 What a fantastic sight to end our fun little cruise!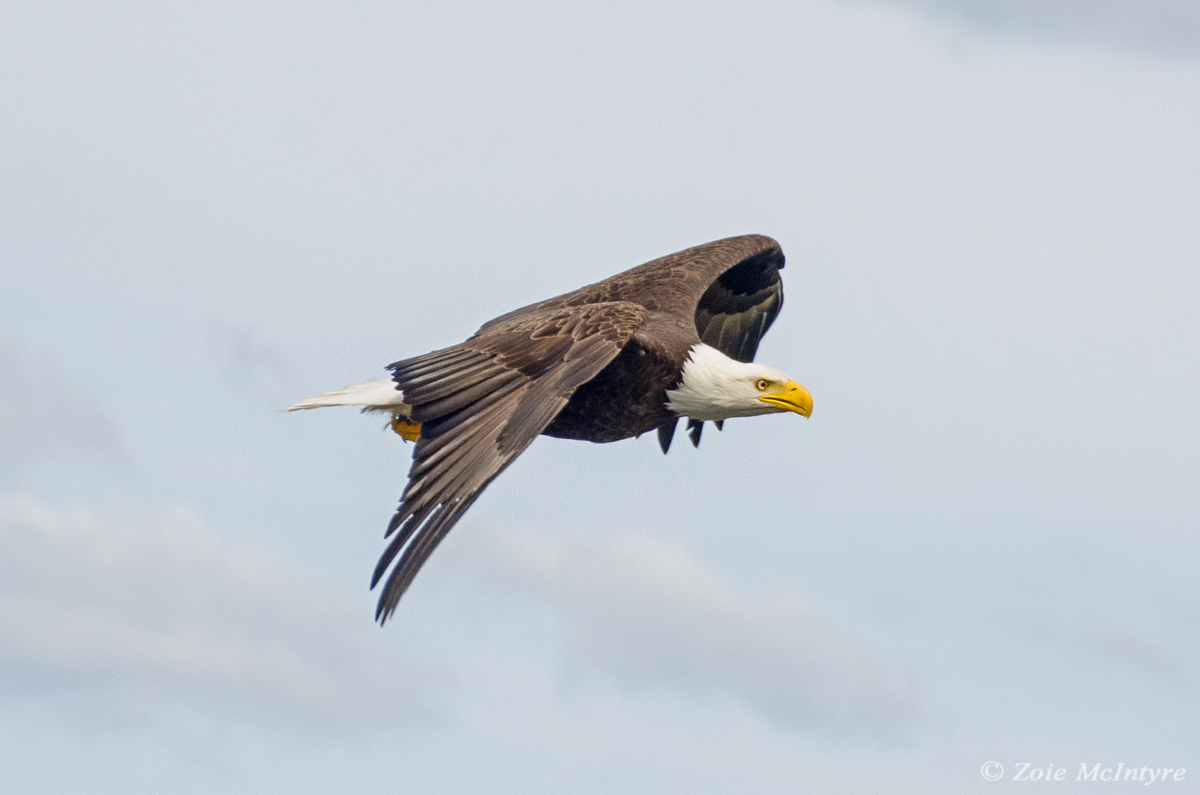 The eagles slowly dispersed as we approached the harbour. We pulled up and docked at the pier, left the catamaran, rode the bus, and reboarded the airplane for the flight home. Everyone talked about all the wonderful things that we had seen over a relaxing dinner, and we made it safely home before sunset. What a fantastic day!!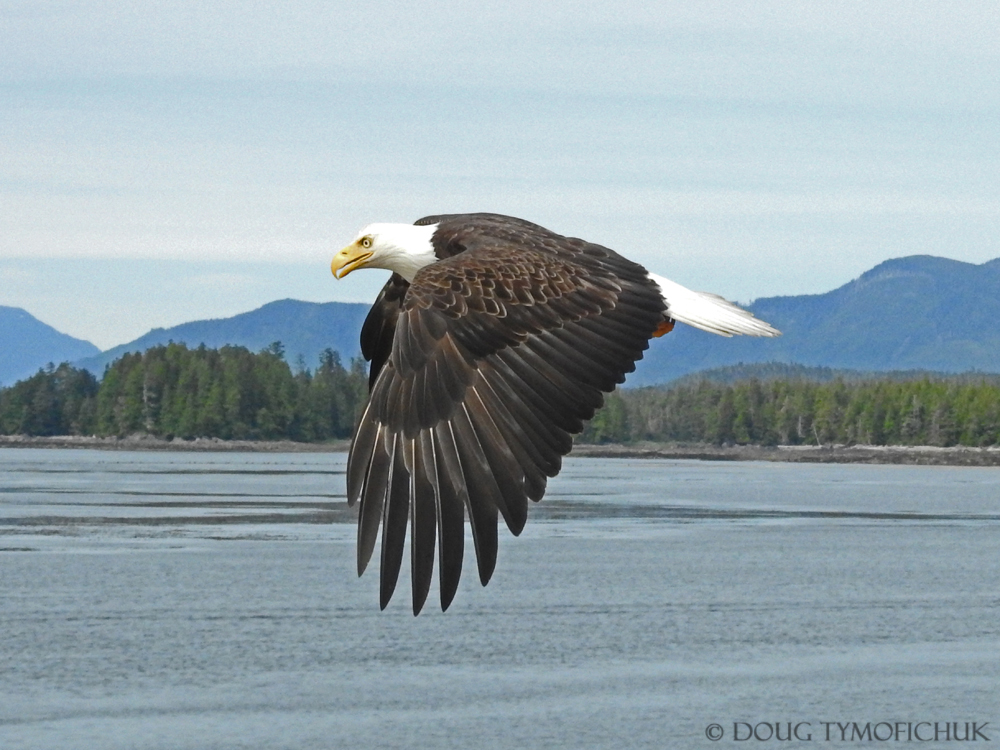 Thank you for sharing in our trip, see you on our next adventure!
---